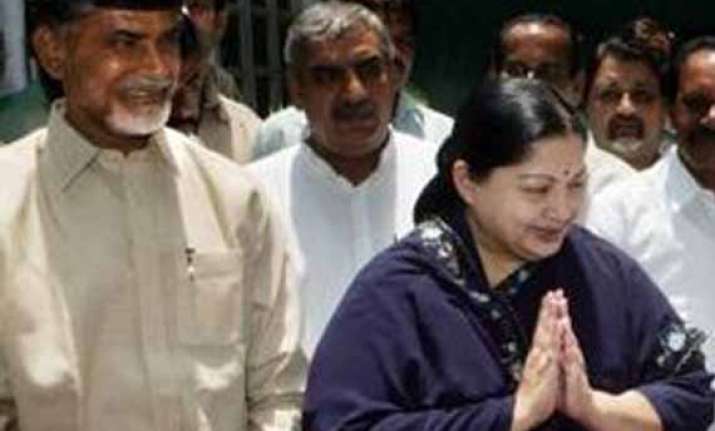 Chennai: Telugu Desam Party chief N Chandrababu Naidu today called on AIADMK supremo J Jayalalithaa and requested her to exert pressure on the Centre to take people of both Telangana and Seemandhra regions into confidence before bifurcation.
Jayalalithaa, according to Naidu, said she was all for federalism and any bifurcation should be made on the basis of consensus. He requested the President to call leaders of both regions to find a way out of the imbroglio.
Naidu, who is meeting leaders of all main political parties on the Telangana issue, alleged that the Congress was indulging in political drama on this issue which has now become a national crisis.
He alleged that while the Congress Working Committee headed by Sonia Gandhi approved bifurcation, her own state Congress chief and AP chief minister are opposing the creation of Telangana.
"The Congress is playing a dirty game for political gains", Naidu said. "I told Jayalalithaa ji that NTR and MGR were close friends and politically too we are very close".
Asked about whether TDP would join the Third Front, Naidu parried the question saying, we will decide about this after the elections.
Later, Naidu also met DMK supremo K Karunanidhi and pressed for a consensus before any bifurcation of Andhra Pradesh. The meeting was attended by Karunanidhi's son M K Stalin and other leaders.