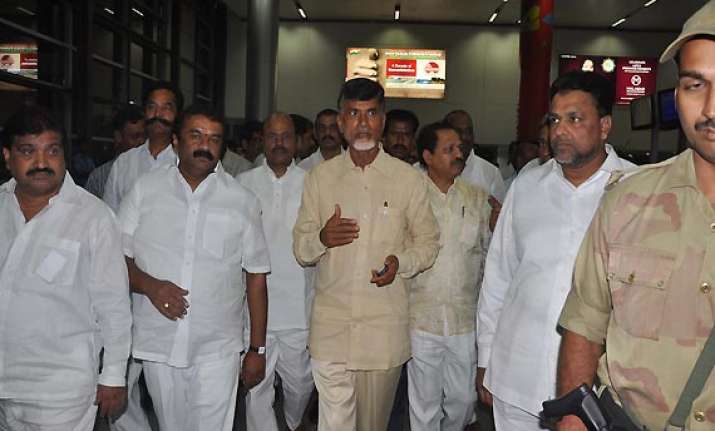 New Delhi: Fasting TDP Chief Chandrababu Naidu was today discharged from hospital where he was admitted two days back after being forcibly evicted from hunger strike venue at Andhra Bhavan premises here.
An aide of Naidu said that the TDP Chief, who took an evening flight to Hyderabad, has not ended his fast-unto-death agitation against division of Andhra Pradesh.
"Naidu is still continuing his fast-unto-death agitation launched against the bifurcation of Andhra Pradesh," he told PTI.
Emerging out of Ram Manohar Lohia Hospital, where he was admitted on the fifth day of his hunger strike on Friday, Naidu hit out at the Congress, saying the ruling party did not follow "proper procedures" in bifurcation of Andhra Pradesh. He said that Seemandhra people are worried about the future of Hyderabad.
"There is agitation in Andhra Pradesh. Seemandhra people are worried about education, employment, revenue sharing, water resources and the status of Hyderabad besides its future," the TDP leader told reporters.
"The way in which the division process is being done is objectionable. They are not following any system or procedure," he said.
Naidu took exception to what he called non-involvement of leaders from the state in the bifurcation process.
"I am asking the Congress. Are there no local leaders? are there no statesmen?," he asked.
The TDP leader alleged that the Congress leaders like Digvijay Singh, Veerappa Moily and Home Minister Sushil Kumar Shinde were giving contradicting statements on the bifurcation issue.
Naidu also appealed to the national parties to put pressure on Congress to provide "justice" for Telugu people.
"Congress party should hold talks with people from both sides to resolve the issue amicably," he said.
Meanwhile, RML hospital authorities said Naidu was discharged today as he was "stable" and the TDP leader wanted to visit Hyderabad.
On the fifth day of his hunger strike on Friday against Telangana creation, the 63-year-old TDP chief was forcibly evicted by police from Andhra Bhavan here amid high drama and chaos.
Naidu was on hunger strike on the premises since Monday to protest against bifurcation of Andhra Pradesh.
The TDP chief was forcibly administered intravenous fluids, after his health deteriorated on the sixth day of indefinite fast.
The aide, who accompanied Naidu till New Delhi Airport, said that the TDP chief will be admitted to a hospital in Hyderabad as soon as his flight land at the airport there.