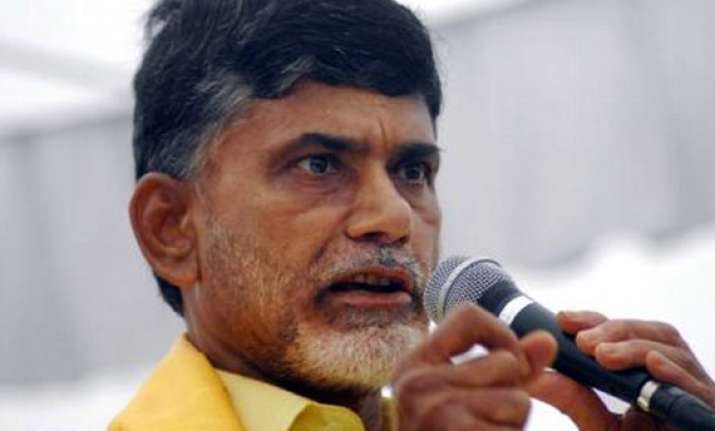 Hyderabad, Dec 28:  The Telugu Desam Party today stuck to its stand on the contentious Andhra Pradesh bifurcation issue by supporting formation of a separate Telangana state.
"I would like to bring to your notice that our party has stated its opinion through its letter dated October 18, 2008 to the then Minister for External Affairs Pranab Mukherjee and our letter is still with your government. We have not withdrawn our letter," TDP president N Chandrababu Naidu wrote to Union Home Minister Sushil Kumar Shinde.  
Chandrababu's fresh letter on Telangana- which was once TDP's citadel - was handed over to Shinde at an all-party meeting in Delhi by TDP's representatives Yanamala Ramakrishnudu and Kadiyam Srihari.
"In deference to the sentiments of people of the region, Telugu Desam supports the demand for separate statehood to Telangana," the party politburo had said in aone-page resolution on October 9, 2008 when it took a policy decision in favour of a separate state.  
Chandrababu had said on the day that Telangana was a "historic necessity" and "our party has taken the right decision in this regard."
The TDP, he added, would do whatever required - "legally, constitutionally and politically" - for the creation of Telangana state.
All this was conveyed to Pranab Mukherjee Committee, constituted by UPA government to look into the statehood demand.
Chandrababu's letter to Shinde implies that the party has not changed the stand it had taken in October 2008 on Telangana demand, though TDP leaders belonging to the three regions of the state spoke in different voices in the changed political circumstances after December 9, 2009.  
"Only what I say is official and final (on Telangana issue)," was Chandrababu's refrain whenever questions on the subject were posed to him.