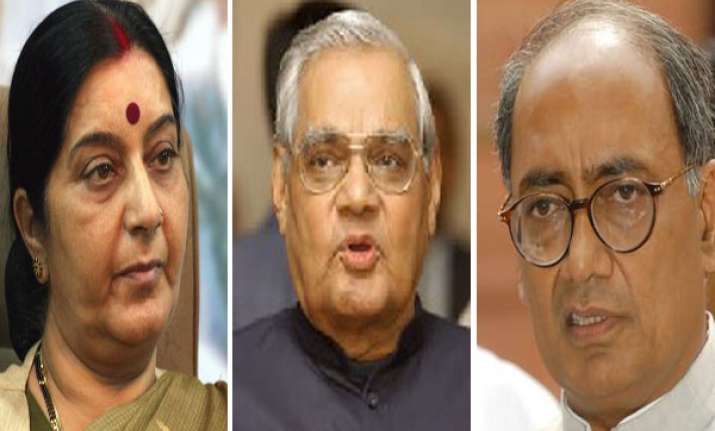 New Delhi, Dec 6: BJP leader Sushma Swaraj was today compared to former Prime Minister Atal Behari Vajpayee by Congress leader Digvijay Singh, who said the Leader of Opposition in Lok Sabha was fit to become prime minister, a praise that left her unimpressed.
Addressing a TV programme , Singh lavished praise on Sushma, saying it's her "right" to be the contender of Prime Minister's post.
"In British Parliament, the Leader of Opposition is considered the shadow Prime Minister. If we go by that system, Sushma should be the shadow Prime Minister here also. But I was surprised when Sushma declared someone else as the contender of PM's post in Gujarat. It is your right Sushma ji," Singh said.
The AICC general secretary also said the BJP leader matches with the liberal and moderate face of Vajpayee and will be acceptable to other political parties also.
"In BJP, a moderate face is seen in Vajpayee... In today's environment, if there is any person who will be acceptable to other parties, it will be Sushma ji. Because she does not have the RSS tag behind her and after Vajpayee, if there is any person with a moderate and liberal face, it is Sushma," Singh added.
Downplaying Singh's praise, Sushma said the Congress leader has an old habit of creating disputes.
"Digvijay Singh has an old habit of creating disputes and the same thing he did here today. There are several ways of creating disputes and too much praise is one such way. Today he used the same method here," she said.
On her recent statement during Gujarat election campaign, where she spoke about Chief Minister Narendra Modi's ability for Prime Minister's post, she said BJP has many able people and Modi is one of them.
"I had said that Narendra Modi is eligible and capable for this post. I still stand by that statement, who can say he is not eligible and capable," Sushma said.
"BJP has five to six people who have the ability... If BJP has so many people capable of being Prime Minister then it is BJP's strength and not its weakness... There is a difference between claimants and those who are eligible.
Denying there is any claimant in her party for the top post, Sushma said the debate on the issue has been created by the media and the right person will be declared by the concerned party at an appropriate time.
"No party is debating who will be the PM. Only media is discussing this... Leave this issue to the parties and they will decide at an appropriate time through an appropriate forum," the BJP leader said.
"It will not be good to project someone for the PM's post", she said, adding a decision on this will depend on conditions prevailing at the time of selection.
Singh, when asked why Rahul Gandhi was not being projected as Congress' prime ministerial candidate, said, "He (Gandhi) has already expressed his desire to be in the party and work for it."
To a query why Rahul has not visited Gujarat for campaigning, he said, " Every election has its timing and necessary strategies are made for it."
Sushma when asked whether Rahul's style of politics lacks confidence said, "Every person has a style of politics. It is not good to copy it."
Asked to compare the abilities of Modi with Bihar Chief Minister Nitish Kumar, Sushma said, "This is not the place for this question... Both have done a good job."
On allegations of corruption against BJP president
Nitin Gadkari
, she said he has already expressed his agreement for an investigation into the issue.
To a question why no inquiry was conducted when allegations of corruption were levelled against Congress President Sonia Gandhi's son-in-law Robert Vadra, Singh said, "Investigation had happened. Whatever was the outcome of the investigation you can access it through RTI."