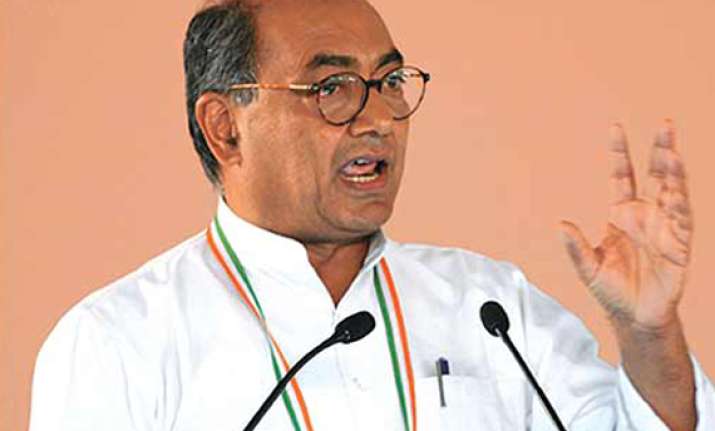 New Delhi, Nov 12: The Congress has starting preparing for the Lok Sabha elections, kickstarting even the process of picking the candidates, senior leader Digvijay Singh said Sunday.
The former two-time chief minister of undivided Madhya Pradesh also said in an interview that while the next parliamentary election is scheduled for 2014, it could be held next year.
"Preparations have started for the 2014 challenge. We have started the process to select the candidates," Digvijay Singh told IANS, two days after the Congress leadership met at Surajkund near Delhi.
At the Friday meet, Congress president Sonia Gandhi asked her ministers to get cracking to fulfill the 2009 Lok Sabha manifesto ahead of the next parliamentary battle.
She also asked Congress leaders and ministers to bridge the "communication gap" and work in cohesion if the Congress had to return to power nationally.
India's oldest political party, the Congress has been hit hard by corruption allegations as well as an aggressive and vocal civil society campaign ranged against corruption.
Digvijay Singh expressed confidence that the Samajwadi Party and the Bahujan Samaj Party (BSP) would not rock the Congress-led government that now is in minority in the Lok Sabha.
"I have the highest regards for the SP and BSP. We will be able to convince the two parties on our policies and programmes," he said on a day when BSP chief Mayawati called on Prime Minister Manmohan Singh.
On Friday, Samajwadi Party leader Mulayam Singh had called on the prime minister.
"After all, we have been managing a coalition government since 2004," said Digvijay Singh, who is in charge of Uttar Pradesh for the Congress.
With parliament's winter session set to start Nov 22, the government is under attack from the opposition over a slew of economic reforms including allowing foreign investment in retail trade.
Will the Congress make this an election issue?
"We have always fought elections on a positive agenda," he said, without referring by name to the opening of the retail trade.
After Friday's Congress meet, an extended meeting of the All India Congress Committee (AICC) is likely next year.