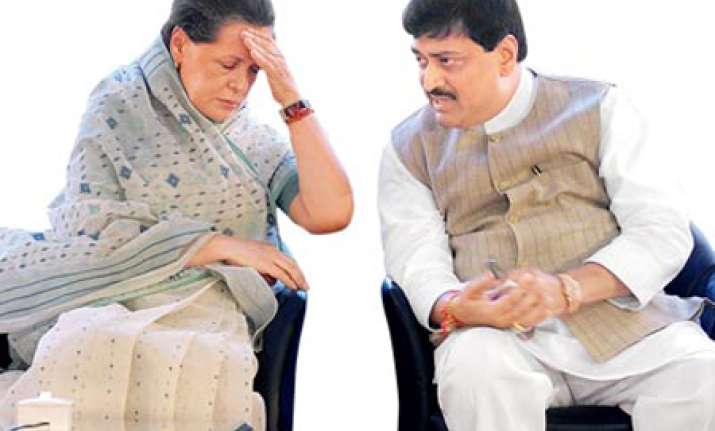 While analysts are trying to ascertain why Maharashtra chief minister Ashok Chavan rushed to New Delhi on Saturday with an offer to resign, top sources in his Congress said that the Maharashtra Chief Minister felt the writing was on the wall after party president Sonia Gandhi did not take his calls all of Friday evening, says a Mumbai Mirror report.
Chavan, who on Friday defended a flat in his mother-in-law's name in the controversial Adarsh Housing Society while at the same time announcing that two other relatives were giving up apartments in  the building, had frantically tried to reach Sonia for several hours after the press conference.
"Ashok Chavan is the chief minister of one of India's most important states. Mrs Gandhi always comes on the line when he calls, or at least gets back soon enough. But on Friday, despite repeated calls to her 10, Janpath residence, she remained unavailable.
It was a clear sign that things were not looking good for the CM," a senior leader privy to the proceedings told Mumbai Mirror.
Taken aback by the failure to get through to Sonia, Chavan decided to cancel all his meetings scheduled for Saturday and go to New Delhi, armed with an offer to resign, to placate the Congress president. "He was not summoned, as some people are speculating. He came of his own accord," the party leader added. 
According to his office, Chavan had a Saturday packed with meetings and official functions. His programme included a meeting of the cabinet sub-committee on planning, a discussion with MPCC chief Manikrao Thakre, a recording for the Jai Maharashtra show on Doordarshan, a discussion with senior bureaucrats, and a meeting on the formation of the steering committee for the beautification of Dadar Chaityabhoomi and setting up a memorial for Dr. B R Ambedkar.
Chavan, 51, who flew to Delhi with his wife Anita, finally met Sonia for about an hour. The Congress president's political secretary, Ahmed Patel, was also present during the meeting.
While the leadership decided to buy time by setting up a two-member probe panel consisting of Finance Minister Pranab Mukherjee and Defence Minister A K Antony, the question on everybody's mind was if Chavan would remain the Chief Minister when US President Barack Obama visited Mumbai on November 6.
"This panel is strictly on behalf of the Congress. The other inquiries are different and on behalf of the Union Government," AICC General Secretary Janardhan Dwivedi said.
While some members of the Congress leadership feel they should change the CM quickly, and some others that Chavan should continue at least until Obama's visit, the complexities of coalition politics will also be tested over the next few days.
"It is not easy for us to change the Maharashtra Chief Minister. We run a government there with the NCP. We have to consult out coalition partners before taking such a big step," a Congress leader said.
While several names have already started cropping up, sources said the Union Minister of State for Science and technology and PMO, Prithviraj Chavan, was once again the front-runner.
A US-educated leader from Karad in Western Maharshtra, sources said Rahul Gandhi was rooting for him as the next CM.
But the NCP, not comfortable with the idea of having Prithviraj at the helm, are said to be backing former Union Power Minister Sushil Kumar Shinde. The other candidate is former CM Vilasrao Deshmukh.
At this stage, the only hope Ashok Chavan had to continue as CM, sources said, was if Prime Minister Manmohan Singh decided to back him due to his friendship with his father, the late Shankarrao Chavan.
Adarsh scam
The Adarsh society scam blew up in the face of the State Government and the defence Ministry after newspapers, including Mumbai Mirror, pointed out that the 6,490-square-metre land that was supposed to have a six-storeyed structure for Kargil widows, had transformed into a posh 31-floor high-rise for politicians and bureaucrats.
The embarrassment for the State government started after names of the beneficiaries started tumbling out, prime among them being some close relatives of Chief Minister Chavan and a plethora of bureaucrats who held posts that dealt with procedural necessities required for the building to come up.
In Friday's press conference, Chavan was on the back foot but put up a brave front saying that he welcomed a CBI probe into the issue. But several Congress insiders said that the withdrawal of membership of his relatives was seen as an admission of guilt.