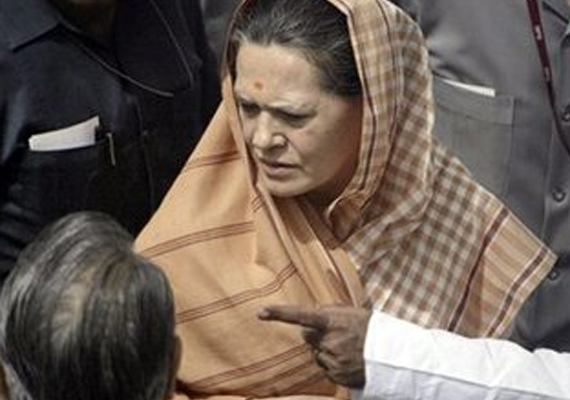 Jaipur, Aug 30: Congress president Sonia Gandhi arrived here Thursday and met people who were affected by heavy rains and are living in relief camps, officials said.
Gandhi assured the affected people of all possible help from the government, they added.
The Congress chief arrived around 3 p.m. after visiting Barmer and went straight from the airport to the relief camps in Madrampura area here.
"Sonia Gandhi took stock of the disruption caused by the heavy rains in low-lying areas. She met people there, especially woman and assured them of help," said a senior administration officer accompanying Gandhi.
Jaipur District Collector Naveen Mahajan briefed Gandhi on the devastation due to the rains and also informed about the relief works, even as a huge crowd of people gathered to try to speak with the UPA chairperson.
At least 50 people have been killed in the rain-related accidents in Rajasthan including 19 in Jaipur alone.
The army had been roped in Aug 24 to pump out water from city's several residential areas still inundated after heavy rain. Over 50 colonies, especially in Madrampura area, are flooded since heavy rainfall Aug 21. Over 500 houses have either developed cracks or are completely damaged after the heavy downpour.
"Hundreds of people are still in relief camps set up in different places across the city," said the officer.
Several women told Gandhi that they now had no home to live in.
"My house and all the belongings were swept away in the rain. We can not stay in the shelter home forever," Shakuntala Devi told Gandhi.
Later, Shakuntala Devi told IANS that Gandhi said her family and hundreds of others which were affected will be extended full help by the state government.
"You should have faith in the state government and they will do whatever best is possible," she quoted Gandhi as saying.
"She said that the government will chalk out a plan which is suitable to us," added Shakutala.
Gandhi also spoke to soldiers engaged in relief work.