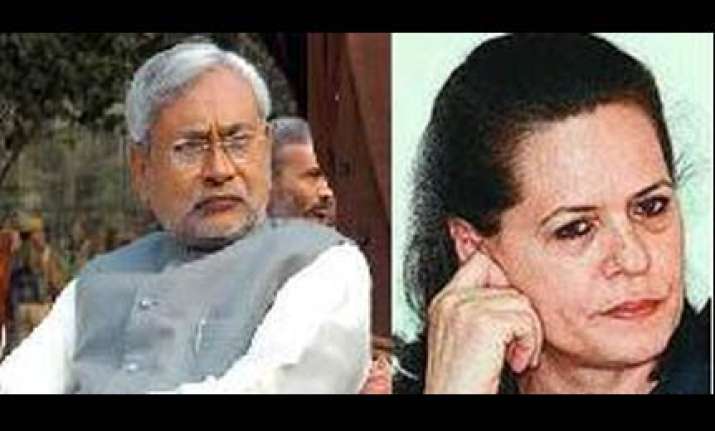 New Delhi, Nov 24: In a surprising signal in national politics, Congress president Sonia Gandhi today came to the Congress office to publicly congratulate Bihar chief minister Nitish Kumar, while at the same time, she lashed out at the opposition on questioning the integrity of Prime Minister Manmohan Singh in the 2G Spectrum Scam.
Sonia Gandhi said, "it is surprising that the person of the integirty of our Prime Minister was made the target by the opposition. By targetting the Prime Minister, I can only remind the opposition of what it did in the last elections when it questioned his integrity", she added. 
Asked about BJP's decision to retain Yeddyurappa as chief minister, Sonia Gandhi said: "The people of India will judge how Congress dealt with the issue of corruption and how that party (BJP) dealt with corruption. We asked Natwar Singh to resign, we asked Shashi Tharoor to quit, we asked the chief minister (Ashok Chavan) to quit after Obama left. It is for the people to judge. I am confident people will judge all this more positively".  
On Bihar poll results, Sonia said: "I congratulate Nitish Kumar for his success. We didn't have much  chance. We took a deliberate decision not to work in alliance with other parties. The results clearly show we have to start from scratch in Bihar to rebuild the party." 
Launching a strong attack on Opposition,  Sonia Gandhi accused them of targeting Prime Minister Manmohan Singh in the 2G scam and described him as a man of integrity and a person "100 per cent above board".
She also attacked BJP for retaining B S Yeddyurappa as Karnataka Chief Minister and compared this decision with the Congress action in making Shashi Tharoor and Ashok Chavan resign from their posts in the wake of controversies.
Gandhi reminded the BJP that it had to pay a heavy price of trying to "destroy the image" of Singh during last Lok Sabha elections and said it should draw a "lesson" from that.
"It is shameful that the person of the Prime Minister's integrity is being targeted," Gandhi told reporters when asked to comment on the Opposition attack on Singh.
"Everybody knows the Prime Minister is 100 per cent above board," she said.
Sending out a message to BJP, Gandhi said it should learn the "lesson" of making it "point number one to destroy the image" of Singh in 2004. "What happened, they lost," she said.
"You all remember how they attacked him during the campaign and what was the result. They lost. The Prime Minister won. That should be a lesson for the opposition," Gandhi said.
Hitting out at the BJP for being adamant on JPC probe into 2G spectrum scam, the Congress president said while her party had removed Natwar Singh, Tharoor and Chavan over allegations of corruption, a similar step was not being taken by the BJP in the case of Yeddyurappa.
"This is a matter which the party concern has to decide. As far as Congress party is concerned, I think all of you know, you have all seen how we deal with matters of corruption. Starting from the issue of Volcker deal in which Natwar Singh was involved, we asked him to resign immediately and we set up a judicial inquiry.
"Shashi Tharoor, we asked him to resign...as soon as US President (Barack) Obama left, we asked him (the Maharastra Chief Minister to resign. It was planned before but we did not want to execute it till the President left," Gandhi said."
Comparing the action taken by Congress and BJP, she said people of the country will judge both the parties.
"When we compare the action that our party takes with the action other party takes, as you have mentioned BJP in Karnataka, then I think it is for the people to judge and I am confident that they will judge us more positively then other parties," Gandhi said. PTI