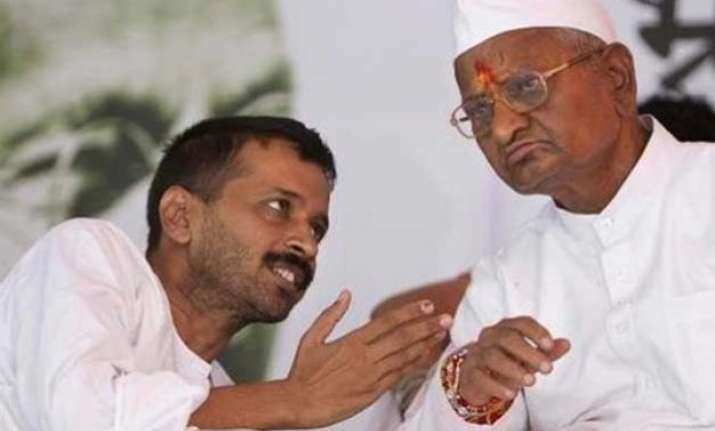 New Delhi: No one had expected the top leadership of Aam Aadmi Party (AAP) to start washing its dirty linen in public immediately after a historic victory in Delhi Assembly elections.
 
The party won an unprecedented 67 out of a total of 71 seats in 2015 Delhi Assembly elections. The party was euphoric over its landslide victory but the cadres were left bewildered when  internal squabbles reached a flashpoint with two founding members, Yogendra Yadav and Prashant Bhushan, expelled  from Public Affairs Committee (PAC), the top decision making body of the party.
 
The expulsion of Yadav and Bhushan was seen as an attempt by Arvind Kejriwal, who was being challenged by Yadav and Bhushan on policy matters quite frequently, to prove who the real boss was.
The internal rumblings within AAP provided an opportunity to the party's disgruntled elements like former party MLA Rajesh Garg and political opponents like Asif Mohammed Khan of Congress to fish in troubled waters. These two leaders took a leaf from Kejriwal's prescription of sting and used it against none other than the 'proponent of political sting' himself.
 
The party can't blame political opponents for being opportunistic and attacking when it was fighting hard to resolve internal clashes.  This is what opponents of every political party usually do in India.
But what about internal rumblings within AAP?  Why is it that the party is busy settling internal scores at a time when it should have focused completely on meeting the expectations of the Delhi electorate that handed them an awesome victory? Is it because of a clash of ideologies, egos or ambitions?
 
A close analysis of the AAP history will make it clear that perhaps it's a combination of all three.
The party was born out of a movement against corruption led by the indefatigable Anna Hazare. The movement was joined by people from different ideologies with only one thing in common- their zeal to fight corruption.
Prashant Bhushan is known for his ultra-leftist ideology while Yogendra Yadav has been very articulate about his left-of-centre world view. Arvind Kejriwal , on the other hand, was always nationalistic, more like BJP minus its cultural and religious preferences , in his political outlook. Kejriwal has never been comfortable with Bhushan's views on plebiscite in Kashmir. In fact, he has distanced himself a number of times from Bhushan's viewpoint.  
 
Coming to egos, Kejriwal and his supporters have this feeling that it's his charisma that fetched them a massive victory in Delhi Assembly elections. And to be fair to them, they are not wrong. Yadav and Bhushan were never looked at as vote catchers. But they look upon themselves in the roles of friend, philosopher and guide for the party.
It was Yogendra Yadav who had come forward to offer his political expertise in formulating AAP's political philosophy and structure.
Bhushan and his family came up not only with huge donations but also a set of guidelines to shield it from corrupt, unethical and immoral practices. So when Kejriwal tries to assert his authority, the ego clashes come out in open as all three consider themselves to have contributed no less than each other as far as party's growth is concerned.
 
Interestingly, Kuldip Nayyar, senior journalist, has drawn a parallel between Janata Party and Aam Aadmi Party (AAP) in one of his recent articles.
 
Lamenting the emergence of one-man cult in AAP, Nayyar has accused Kejriwal of using his official position of Delhi's Chief Minister to bash his critics.
 
Making out a case for Anna Hazare's intervention in AAP crisis, Nayyar  says that AAP is a child of a movement which Anna Hazare initiated against corruption.
 
"Why has he not taken upon himself the task to ensure that those who control the party act to complete the task of appointing a Lokpal (ombudsman) at the Centre to eliminate corruption in high places.
 
Personal ambitions have also played an important role in widening the chasm among the three leaders. Arvind Kejriwal considers himself to be the face of the party at the national level. He seems to have a definite agenda for his party. He wants to make Delhi a model of governance and plans to milk it politically the way Modi used his Gujarat model across the country.
And this is where he comes in direct confrontation with Yogendra Yadav and other regional leaders like Mayank Gandhi who have their own personal ambitions to lead the party to victory in their respective states.  They wonder if corruption is to be fought in Delhi only.  
These leaders are not willing to wait for long. Yadav is known to have support among the regional units of the party which are all raring to go whole hog in elections taking inspiration from AAP's spectacular performance in Delhi Assembly elections.
It seems Kejriwal failed to gauge the ambitions of leaders like Yogendra Yadav and Mayank Gandhi and this was one reason behind open challenge to Kejriwal's authority in the party.
 
Comparing Anna Hazare with Jayaprakash Narayan, Nayyar in his article laments the fact that both of them failed to rein in the leader that they had helped win public support.
 
"Instead, Anna Hazare has run away from his responsibility and hidden his failure behind a movement against a land Bill. Probably, Anna Hazare realises that his word would not be respected. This is precisely what the Gandhian Jayaprakash Narayan felt. He had founded the Janata Party, which appointed Morarji Desai as Prime Minister," says Nayyar.
 
"The fact is that Morarji did not listen to JP should not have made him withdraw from the field. He should have joined issue with Morarji, who was only a creature of the JP movement.
 
"I recall telling JP that the people voted at his behest and expected him to intervene to make the Central government work according to the movement's ideals. He did not contradict me but explained that his health did not allow him to go to the public again. This was another way of admitting that he did not want to join issue with Morarji, lest the Janata Party should get a bad name. This was JP's rationalisation. He knew Morarji would not listen to him," writes Nayyar.    
 
"Anna Hazare can end the obsession of Kejriwal to kill dissent. The fact that he sits on dharna with Anna Hazare on the land Bill should not hide the fact that Kejriwal wants to oust the critics from the party, adds Nayyar.
 
The latest report says that AAP has agreed to give a green signal to its state units for plunging into elections. Hopefully, this will placate leaders like Yadav and Mayank Gandhi and will lead to rapprochement between the warring factions.