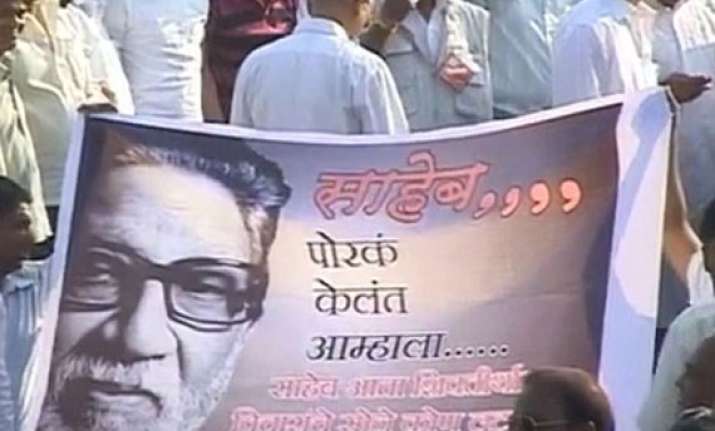 Mumbai, Nov 27 : A Shiv Sena leader Tuesday gave a new twist to the demands for a Bal Thackeray memorial at the Shivaji Park in the heart of the city, claiming that the late party chief's cremation site is "as holy as" the Ram Janmabhoomi in Ayodhya.
The party's Rajya Sabha member and spokesperson Sanjay Raut said this when asked about the demands from various quarters for a memorial to Thackeray who died Nov 17 and was cremated the next day at Shivaji Park with lakhs attending the state funeral.
"It has become a land of faith for the Shiv Sainiks and after Balasaheb's cremation, it is considered as holy as Ram Janmabhoomi," Raut said.
In the same vein, he said: "But we do not consider it as a memorial. Whatever structure is there will remain undisturbed."
On the issue of the memorial, Raut diplomatically reiterated party executive president Uddhav Thackeray's remark last week that "the ordinary Shiv Sainiks would decide where the memorial shall come up".
Reacting sharply to this, Nationalist Congress Party spokesperson Nawab Malik asked the Shiv Sena "not to capitalise or politicise" Thackeray's death.
Thackeray, 86, was cremated before nearly two million mourners.
The cremation site at Shivaji Park has become a landmark of sorts with hundreds of people coming to pay homage to Thackeray, offering prayers, flowers, and a band of loyal Shiv Sainiks maintaining a round-the-clock vigil and tending to an "amar jyot" installed there.
Shortly after Thackeray's death, senior leader and former Lok Sabha speaker Manohar Joshi demanded that a memorial to the Sena supremo should come up at Shivaji Park.
Last Sunday, Joshi said the Sena would construct the memorial at Shivaji Park despite opposition. His statement was criticised by the Maharashtra Congress.
Even as local groups have opposed the memorial, the state government has not taken any decision on the issue.
The Sena-controlled Brihanmumbai Municipal Corporation is prepared to erect an appropriate memorial at the mayor's bungalow, near Shivaji Park, considered by many as a via media.
Having historical and cultural significance, the 28-acre Shivaji Park, in Dadar, close the Arabian Sea, is also considered the cradle of Indian cricket which has nurtured some of the top cricketers of the country.
In its 87-year-old history, the Shivaji Park has witnessed some of the biggest political rallies, meetings, cultural programmes and other activities, including a victory rally addressed by former prime minister Lal Bahadur Shastri after the India-Pakistan war of 1965.