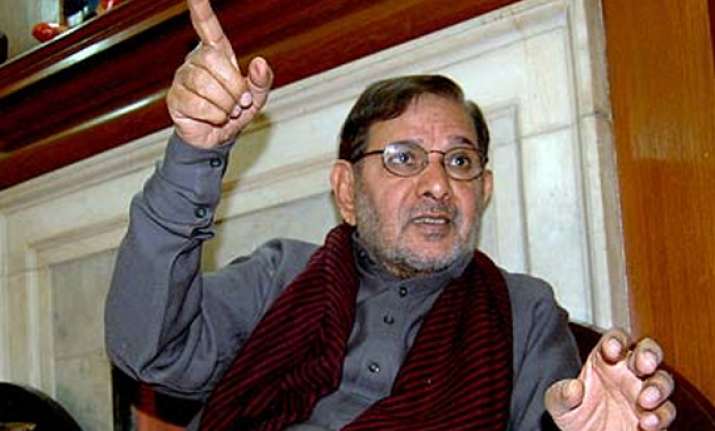 New Delhi, June 26: JD(U) leader and NDA convener Sharad Yadav will be a proposer for UPA's Presidential candidate Pranab Mukherjee who is expected to file his nomination papers on Thursday.
Mukherjee is expected to file four sets of nomination papers and Yadav is the first signatory to one such set which also has the signature of Defence Minister A K Antony.  Yadav signed on the nomination paper after Union Ministers Rajiv Shukla and V Narayanasamy drove down to his official residence here.
The two Congress leaders had an hour-long discussion with the JD-U chief and is learnt to have requested him to be present when Mukherjee files his nomination on June 28.  Another JD-U MP Vashishtha Narayan Singh has also signed on the same set of nomination paper.  
The Janata Dal (United) decided to support Mukherjee's Presidential candidature, going against BJP's decision to back P A Sangma's candidature.
Bihar Chief Minister Nitish Kumar, who is learnt to have been a strong votary of consensus on Presidential election and is learnt to have put his weight behind Mukherjee's candidature, arrived in the national capital this morning.  Kumar is expected to meet Yadav during two day-long stay here.
The decision of JD-U to support Mukherjee's candidature has led to speculation of Nitish Kumar's party breaking ranks with NDA, a view both Yadav and Kumar have denied.