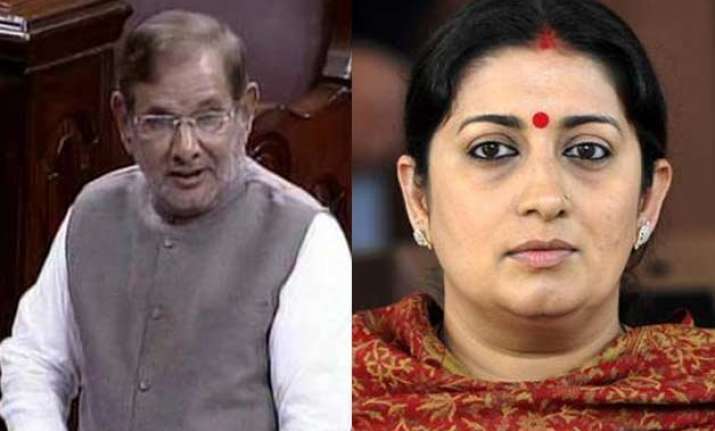 New Delhi: Janta Dal (U) leader Sharad Yadav on Monday made a derogatory comment on women, and this time it's on the HRD minister Smriti Irani. Yadav said he knew what kind of a woman Smriti Irani was.
Under attack for his sexist remarks, Janta Dal (U) was slammed by human resource development minister Smriti Irani over the former's comments on women's complexion.
"Sharad ji is an experienced leader but he doesn't have the right to comment on women like this in the Rajya Sabha, a place whose responsibility is to work for the safety and respect of women," said Irani
However,  JD(U) leader  remained unapologetic for his comments on women's complexion, as he raked it up again saying he was ready for a debate on the issues.
He defended his remarks saying, "What have I said ... 'saanvli' (dark complexioned) women are more in number in India, they are more in number the world over. I am ready to debate with anyone on the struggle of (Ram Manohar) Lohia and others for them."
Clarifying his stand, Yadav said his comments were misconstrued. "There are more dusky women in India and in the world... I can discuss the issue with anyone, we are in favour of Indian culture," he said.
Deputy chairman PJ Kurien said he would not allow a discussion on the issue. "White complexion or dark complexion, it is all the same, I am not allowing a discussion on this," Kurien said.
Meanwhile, senior politicians from the Nationalist Congress Party, Dravida Munnetra Kazhagam and AIADMK collectively protested against Yadav's comments.
During the debate on the insurance bill in the Rajya Sabha last week, Yadav diverted from the main issue and discussed 'saanvli' (dark) colour of the South Indian women and said, "The women of the south are dark but they are… their bodies…," and went on to speak about their "dancing skills".