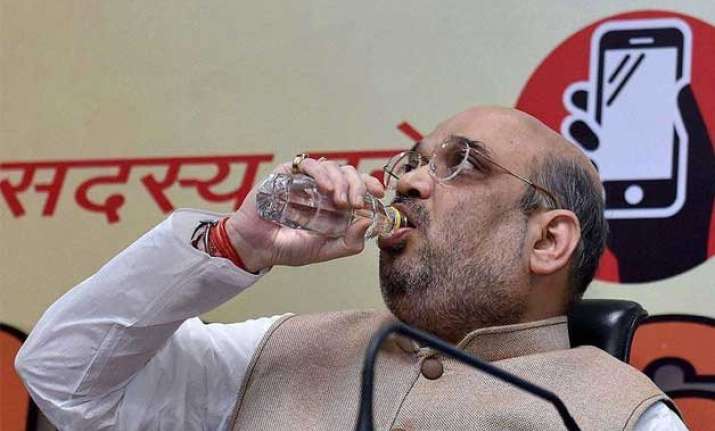 Patna: Sounding the bugle for Bihar Assembly polls due months from now, BJP chief Amit Shah today mocked at the proposed merger of the 'Janata Parivar' ahead of the elections, saying "zero plus zero remains a zero" and asserted nobody can prevent the saffron party from coming to power in the state.
Shah also attacked Chief Minister Nitish Kumar for "back-stabbing" BJP by disregarding the mandate given to BJP-JD(U) alliance to govern the state.
Kumar had ended JD(U)'s 17-year alliance with BJP in July 2013 after Narendra Modi was appointed its campaign committee chief for the Lok Sabha polls.
"Zero plus zero remains a zero," Shah said, asserting nobody can stop BJP from coming to power in Bihar by a two-thirds majority.
"Whether its 'mahagathbandhan' (grand alliance) or 'mahavilay' (grand merger) nobody can stop BJP from coming to power in Bihar with a two-thirds majority in coming poll," Shah said addressing a party workers' congregation that coincided with 125th birth anniversary of Dalit icon B R Ambedkar.
The choice of the date for the conclave is being seen as an attempt by BJP to reach out to the numerically significant dalit votebank, a large section of which is unhappy over the removal of Jitan Ram Manjhi as chief minister.
Coming down hard on Nitish Kumar, Shah said he was trying to bring back 'jungle raj', a sobriquet once used to describe 'misgovernance' of the 15-year Lalu-Rabri rule.
"Once again he (Nitish) is trying to usher in 'jungle raj' (by joining hands with RJD) in the state which BJP along with JD(U) had ended earlier," he said, sharing stage with Home Minister Rajnath Singh.
Both Shah and Singh dwelt on the achievements of the Modi government in the past 10 months and asked party workers to convince the people that a BJP dispensation in Bihar would help it become a "front ranking state" in the country".