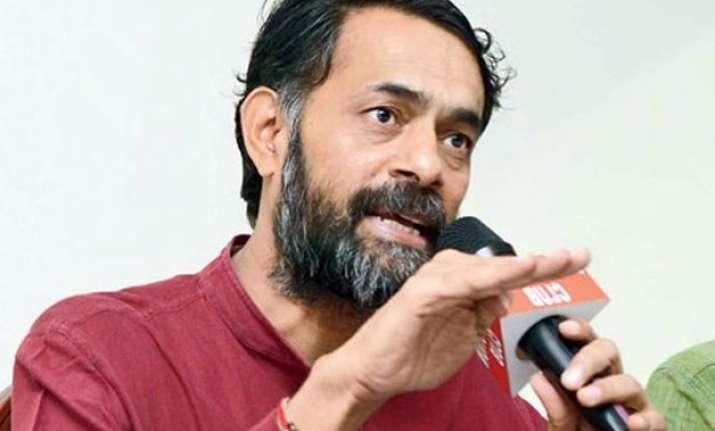 Jammu:  Expelled Aam Aadmi Party leader Yogendra Yadav today said that the setting up of a composite township for the displaced Kashmiri Pandit community was not a good idea.
"Kashmiri Pandits are the victims of the circumstances who have suffered a lot. I would personally say that setting= up of separate townships for them (in Kashmir) is not a good idea," Yadav told reporters here today.
He said that setting up of a separate township was neither possible nor would provide security to the people living in it.
"In practicality, concentration of a community in a separate township is not a good idea... in some places in the country members of a community, members of Muslim community live in concentrated areas but they have no other option," he said.
He said that the Kashmiri Pandit community, which was the "victim of circumstances", must choose what was good for them.
"As I said the best idea is that let the victim choose. Kashmiri Pandits are the victim of the circumstances, it would be fair to let them choose," he said.
He said that people giving dictates on their return were further vitiating the atmosphere.
When asked whether as part of his 'swaraj samvad' he would hold discussion with the separatists in Kashmir, Yadav said that he was open to talk to anyone who approached him.
"It would be presumptuous for me to say that I would hold a dialogue with this and with that, but yes I am open to talk to anybody who wants to speak to me. We can hold dialogue with the people with whom we differ on ideology," he said.
When asked to comment on the issue of the revocation of the Armed Forces Special Powers Act from Jammu and Kashmir Yadav said, "On this, judicial committees have submitted their reports and they say that the act in its present form must go... "Those reports have not been taken seriously.
I am not saying that it must go today, but in any civilised country, the law should be an exception. Though some powers must be left with the security forces, but it must be brought closer to the democracy," he said.
He said that in a democracy, laws like AFSPA should be implemented in "only rarest of rare circumstances".
On his views on Article 370, Yadav said, "the people who made the Constitution took a wise decision on this issue, they knew that some states required special status and hence they gave it.
"I personally believe that Article 370 and other such articles of the Constitution that give special status to various states must continue as India is a diverse country." Yadav also termed the policies of the Narendra Modi-led government at the Centre as being "anti-people" and said that in the past one year only a "lot of noise was created".
"I personally welcomed some of his initiatives but even after one year nothing changed on the ground. His policies are the biggest betrayal with the people of the country," he said.
He said that the land bill introduced by the BJP government was an "anti farmer bill.