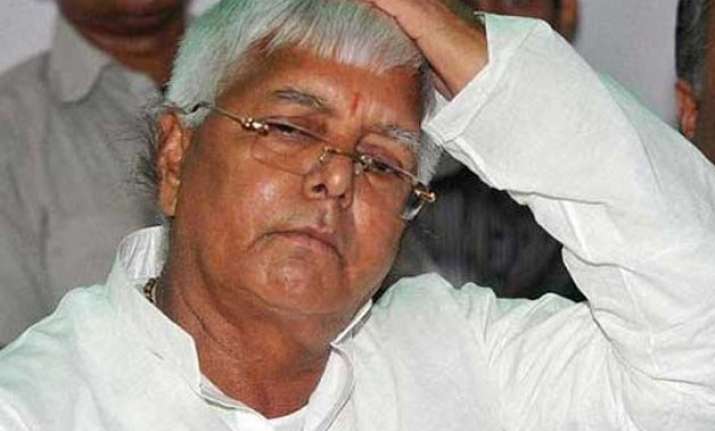 Patna: The escalating war of words between coalition partners in Bihar – Rashtriya Janata Dal and the Janata Dal United – over the law and order situation has forced senior leaders from both sides to jump to damage control.
In a bid to send out a message of unity, RJD chief Lalu Prasad on Friday advised spokespersons of his party and ally JD-U not to squabble publicly. "Grand Alliance is intact and united. There is no rift between us. The state government is on the right track," he said.
"Fizul mein na bole," (Don't speak needlessly), he told the media, referring to the spokespersons. "If you don't understand an issue, remain at home and be quiet."
Lalu also expressed displeasure over what he termed as 'unnecessary' remarks by several leaders of his party as well as their coalition partners JD(U).
"Spokespersons must consult, discuss issues with senior leaders and take permission before speaking to the media."
Senior JDU leader Sharad Yadav was also seen taking a similar line. "All is well with the coalition and there is no question of any rift between us," he said.
A row broke out when senior RJD leader Raghubansh Prasad Singh on Thursday expressed concern over the rise in incidents of crime and asked Nitish Kumar to take appropriate measures to tackle the situation.
"Nitish Kumar, who is sitting on the driver's seat of the government, should initiate stern measures to check further slide," the former Union minister said.
He said the RJD "is sitting on the back seat and it's the prime duty of man on the wheel to drive the vehicle (coalition government) safely." Singh further said that JD(U) people were in the habit of hearing 'jay kaar' which they should end and take strong measures to rein in crime causing disturbance to people.
The comment had clearly not gone down well with the JD(U) which shot back saying that Kumar has a track record of pulling Bihar out of bad days and, hence, needed no advise on the law and order situation.
According to RJD leaders, Lalu Prasad is unhappy over his party colleague Raghuvansh Prasad Singh's criticism of Chief Minister Nitish Kumar over incidents of crime. However, the row originated from JD-U opposition to Lalu's 'tips' to Nitish Kumar on how to deal with the law and order situation.
(With Agency inputs)