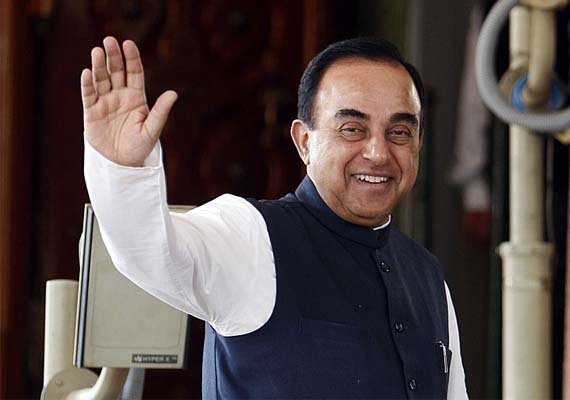 New Delhi: The Supreme Court Thursday suspended defamation proceedings in five cases initiated by the Tamil Nadu government against BJP leader Subramanian Swamy for making critical observations against former chief minister J. Jayalalithaa.
A bench of Justice Dipak Misra and Justice U.U.Lalit, while suspending the proceedings before a Chennai court, also issued notice to the central government, the Tamil Nadu government and Jayalalithaa. The notices are returnable in six weeks.
Swamy, who appeared in person, told the court that sections 499 (defamation) and 500 (punishment for defamation) of the Indian Penal Code imposed unreasonable restrictions on the freedom of speech and expression guaranteed under article 19 (1)(a) of the constitution, and sought a declaration that the two sections and section 199(2) of the Code of Criminal Procedure (CrPC) were unconstitutional.
Section 199(2) says that session court may take cognizance of the offence of defamation committed against the president, the vice president, the governor, the administrator of an union territory or a central or state minister or any other public servant upon a complaint in writing made by the public prosecutor.
Swamy contended that the IPC provisions travel beyond the restriction clause enshrined under article 19(2) as it constricts the freedom of speech beyond reasonable limit.
The court also noted Swamy's submission that the very purpose of article 19(2), was not meant to put such restrictions and, therefore, such an enormous restriction cannot be thought of under it to support the constitutionality of the said provisions and it will violate the concept of rule of law.
The court said that the issues arising from Swamy's petition are that in a democratic body polity, public opinion, public perception and public criticism, are the three fundamental pillars to guide and control the executive action and the growth of a healthy and matured democracy would be affected if they are scuttled or fettered or bound by launching criminal prosecution.
It further noted Swamy's contention that the individual interest in the guise of reputation cannot have supremacy over the larger public interest, for the dominant interest in a democracy is the collective interest and not the perspective individualism.