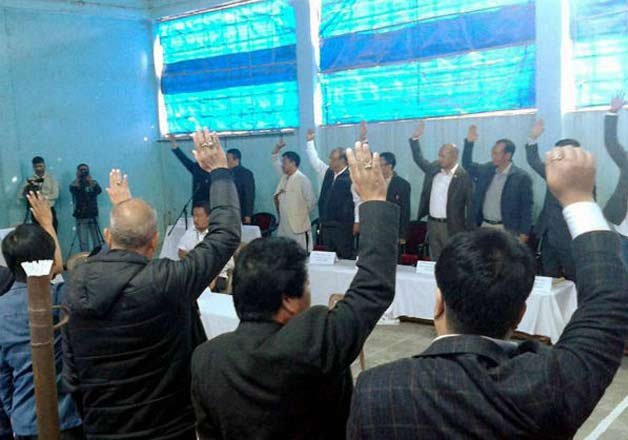 New Delhi: The Supreme Court today vacated its earlier order staying the revocation of President's rule in Arunachal Pradesh, paving way for a new government to be formed in the state.
The apex court refused to intervene with the interim order of the Gauhati High Court that ordered a stay on the disqualification of the 14 rebel Congress MLAs.
"Prima facie we are convinced that the MLAs were disqualified without being served notice," the apex court observed, asking the Gauhati High Court to pass a final order on the matter within two weeks.
The move comes as a big blow to the Congress party, which has been strongly against the revocation of President's rule in the state, blaming the state's Governor of acting at the Centre's behest.
The top court had on Wednesday ordered maintenance of status quo in the state till it examined records on disqualification of 14 rebel Congress MLAs by former speaker Nabam Rebia.
Senior lawyers Kapil Sibal and FS Nariman, appearing for Arunachal Congress leaders, sought maintenance of status quo till their plea seeking to restrain governor JP Rajkhowa from swearing in a new government in Arunachal Pradesh was decided.
Crisis hit Arunachal Pradesh when a faction in the Congress rebelled against the Nabam Tuki government last month.
With the backing of 21 rebels in the 60-member assembly, Kalikho Pul had claimed the Congress government led by Tuki was in minority. The Congress rebels along with the BJP's 11 members had pushed the number of lawmakers opposed to Tuki to 32, he claimed.
He had also approached the Arunachal Governor to stake claim to form the new government in the state.  
The court has been hearing all the cases related to the crisis in the state, including the one on the disqualification of 14 rebels from the assembly.
Meanwhile, the Congress had contested this claim contending that the former assembly Speaker Nabam Rebia had disqualified all 14 lawmakers and two others had resigned, rendering the assembly's strength to 44.
Given the reduced assembly strength, Tuki has comfortable majority, Congress said.
The party also claims that Governor JP Rajkhowa, "acting as a BJP agent", had helped the rebel Congress lawmakers in their bid to topple his government by convening the assembly session ahead of time.
A senior delegation of the Congress party had also met President Pranab Mukherjee, against revocation of President's rule in the state.   
"The Office of the Hon'ble President should not be brought into controversy by such ill-advised action," Congress leaders had told the President. 
(With PTI inputs)