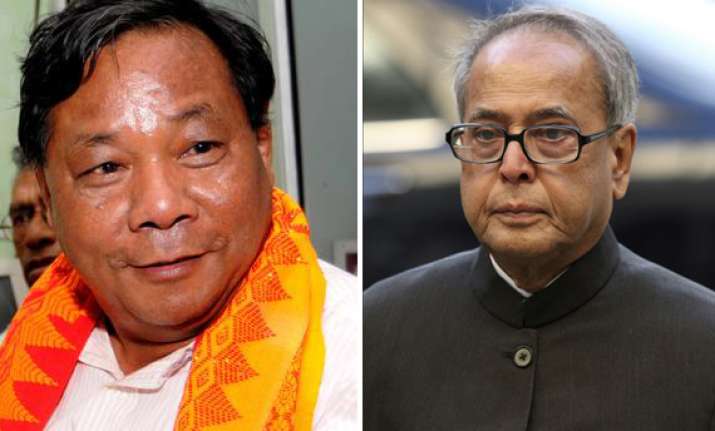 New Delhi, Jun 22: Pinning hopes on "conscience vote" and his tribal identity, P A Sangma today virtually dared UPA nominee Pranab Mukherjee for a debate ahead of Presidential polls, saying democracy needs debate.  
Maintaining that in a democracy people have the right to choose and there should be a debate at a time when the economy is sinking and scams are unimaginable, Sangma said, "Who is responsible for all this corruption...It has to be a candidate to candidate debate".
Asked whether he was throwing a challenge to Mukherjee, Sangma, who has the backing of BJP, BJD and AIADMK, said it was a practice. "Democracy means debate. I am asking for debate," he told TV channels.
Claiming that he will win the Presidential race, Sangma also said he has sought appointments with Trinamool Congress chief Mamata Banerjee and Shiv Sena supremo Bal Thackeray. He said that he was going to reach out to every one.  
"The election (for Presidency) will be by a secret ballot. Secret ballot means conscience vote. I depend on conscience vote and I believe in conscience vote," he said.  He said that the fact that there is a "split" in almost all political parties shows that this Presidential election is a serious one and "not as smooth as the Congress is claiming".  
Sangma said that the UPA candidate is also not getting the undivided support of the ruling alliance as Mamata, whose party in a constituent of UPA, is "not supporting Mukherjee as yet".
He said that he is "constantly in touch" with the Trinamool Congress chief and is "very hopeful of her support".
He said, "I am going to meet her in next few days." Playing the tribal card, Sangma said that he wanted to correct the historic mistakes the country has committed as "tribals have not been given their due...I appeal to the consience of the nation. We have given our land, our forest, our natural resources...please recognize us."
Sangma said his victory in the Presidential race will be a "big message" to "more than 100 millions tribals" in the country and suggested that it could help redress tribal related issues like Naxalism and insurgency.  
He said that he has been sponsored by Tribal Council, which has representation from all parties and has around 5 per cent votes in the electoral college for President's election.  Sangma said he will reach out to all Congress chief ministers, MPs and MLAs from the north east as "it is a question of north east's pride and not a question of party affiliations".
He said that he will also reach out to tribal MPs and MLAs all over the country.
Asked whether he will win, Sangma said, "Yes, of course, I am confident. I have never lost". He said that he has contested nine times in Lok Sabha polls and five times in Assembly elections.
"I know the art of election.... I am not undermining anybody," he said.
Describing Mukherjee as not only a "great friend" but also his "guru (teacher)" for whom he has "lot of respect", he, at the same time, said that the veteran Congress leader could not pay much attention to West Bengal.  "One section of people in Bengal are asking what Pranabda has done for Bengal," he said.
Sangma said that though he himself rose to become a Cabinet minister at the Centre, he left it and went back to his home state Meghalaya to work for his people whom, he felt, were left out.
Rejecting contentions that it was just a "symbolic contest", he said that the split in all political alliances prove it is a serious contest. "Democracy means contest...  giving a choice to people".
Asked about the possibility of his returning to NCP, Sangma, who resigned from his party to be in the Presidential fray," I will not lose this election...where is the question of going here and there arise?"
Replying to questions on he having changed political parties, Sangma cited the case of Subhash Chandra Bose, saying he had also left Congress and formed Forward Bloc.  
"It's a question of principles and not for seeking any post or position. I never left a political party because I wanted a position and I did not get that," he said, justifying his resignation from Congress and NCP.  
He said if he was elected the President, his effort will be to bring the tribals into the maintream as a large number of country's problems are tribal related.  
He said apart from tribals, the Scheduled Caste community is also his constituency, claiming that both had joined hands in the past to back K R Narayanan, the first Dalit President.  
Replying to a volley of questions on his daughter Agatha Sangama's continuance as a minister in UPA and whether she would campaign for him, the former NCP leader said Agatha herself is very mature and knows how to decide her own future and that he will not influence her in taking a decision in the matter.
"I don't think it is necessary for her to campaign for me," he said.
Sangma did not find any contradiction in his daughter being a minister in UPA while he himself was contesting against the alliance.
"Agatha is a part of UPA. I am not. In Meghalaya, Congress has a government but NCP is an opposition party. I am an MLA of the Opposition," he said.