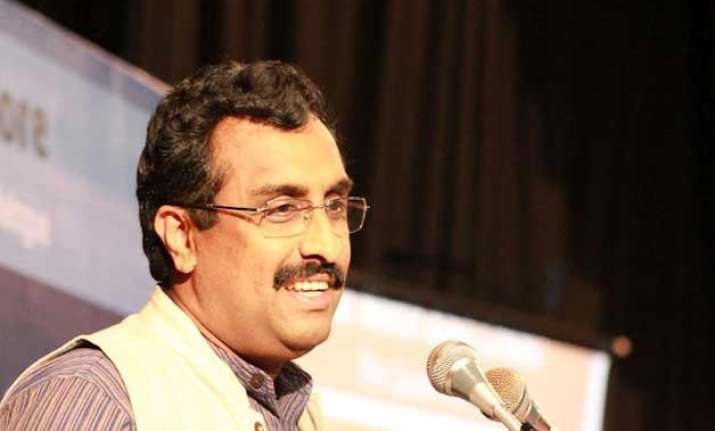 New Delhi: Ram Madhav, who was BJP's key negotiator for the alliance with PDP, today disagreed with Chief Minister Mufti Mohammed Sayeed's comments crediting Pakistan, Hurriyat and militants for the smooth polls in Jammu and Kashmir.
On a day Parliament was rocked on the issue, he said the credit belonged to people, security forces and the election commission.
A General Secretary of BJP, Madhav acknowledged that both the parties had "great differences" on many political issues but came together to respect the mandate provide the state its most "representative government" ever.  
The "guiding force" for the new government will be their common minimum programme released yesterday.  "We attribute it (smooth polls) to three factors, the people of state, security agencies and the election commission," he said when asked about Sayeed's comments, which rocked Parliament today.
"We have great differences on many political issues. The alliance with PDP was the best available and most difficult.  We had keep interest of the state in mind and respect the mandate. This is the most representative government J and K has ever got," he said.
Rejecting the charge that it is the lure of power which brought the two ideologically opposite parties together, he said PDP had "better options" in National Conference and Congress, both of which had been announcing "one-sided wedding" with PDP.
But, Madhav said, PDP and BJP came together to respect the mandate. The alliance government has three core issues on its agenda; restoring peace, rehabilitation of flood victims and equitable development of all three regions. Kashmiri Pandit leaders will be taken into confidence as regards any rehabilitation exercise concerning the displaces community members, he said.
Asked about the RSS' views on the alliance, Madhav said the suggestions of "parivar elders" were taken into account.  "There is no excuse for this government to fail. It has the support of almost 60 MLAs," he said. The state Assembly has 87 members.