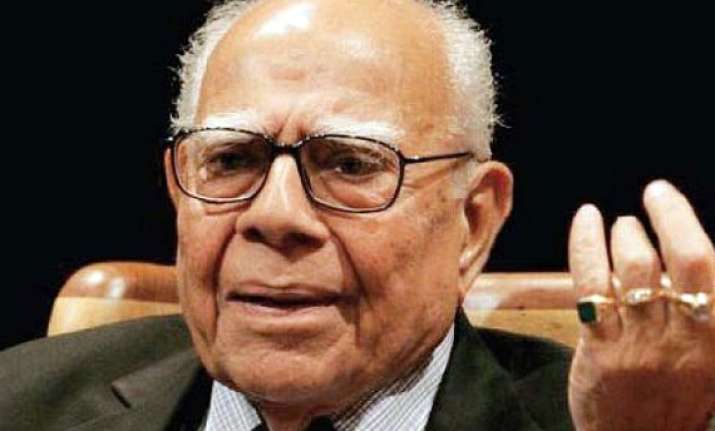 New Delhi, Jun 17: BJP MP and eminent lawyer Ram Jethmalani on Saturday said he would enter the presidential election fray if his party went for a consensus on UPA candidate Pranab Mukherjee.
Jethmalani, who is away in Detroit on a holiday, told reporters over phone that the NDA should not go for a consensus on Mukherjee.
"Mukherjee is a friend. I have great appreciation for some of his qualities but have a serious grievance against him that he has concealed the names that the Germans and French have given him for those people who are hoarding the nation's wealth outside. Yet he has not done anything," Jethmalani said.
He insisted that for him the Rashtrapati Bhavan is not an atttraction and he would like to continue with his legal practice. "My job is to educate people. Let us see what is the decision of the party," Jethmalani said.
BJP sources said that Jethmalani's name was not discussed at Saturday's meeting. The party has indicated it is keen on a contest and hence Jethmalani's threat may not have much signifance.
The NDA is holding a meeting on Sunday where a final view on the issue is expected to be taken.
Ahead of the meeting, top BJP leaders met on Saturday night to firm up the party's stand, with indications that they are not too enthusiastic about supporting Pranab Mukherjee for the top job.
BJP sources said there was a view in the party that there should be a contest, whether it is by backing AIADMK and BJD nominee P A Sangma, or by supporting Kalam, whose candidature is being pushed by Trinamool Congress.