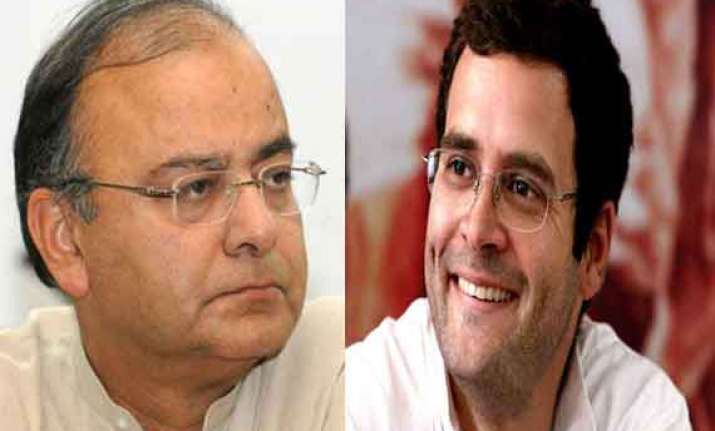 New Delhi: Ahead of Narendra Modi's rally in the Gandhi family's pocket borough of Amethi, BJP leader Arun Jaitley today said the constituency is "ripe" for a strong anti-incumbency against Rahul Gandhi whose relationship with the seat is "nominal".
The Congress Vice-President is seeking a hat-trick of victories from the seat but BJP and AAP have perked up the contest by fielding Smriti Irani and Kumar Vishwas from there.  Jaitley said BJP must convince electorate that a vote for AAP will only divide the anti-incumbency votes.  "The relationship of Amethi with its sitting MP is nominal. Despite having been a family stronghold for decades, Amethi remains one of the most backward constituencies... The situation is ripe for a strong anti-incumbency against the sitting MP.
"With a formidable candidate in place and a Modi campaign to back it, Amethi should be ready for a surprise. Amethi can be won by the BJP," the Leader of the Opposition in Rajya Sabha wrote on his blog.
Arguing that Gandhi has not done much for the area, he said, "The infrastructure in Amethi is inadequate. It is a constituency where internal roads are not the object of envy.  Many industrial units are sick. It is a constituency of people living in inadequate houses."
Contending that it was Amethi's "tragedy" that the voters were never presented with an alternative option, he said BJP was determined to put up a fight.
He termed Smriti Irani as a "formidable candidate" and claimed that she was getting a good response from people, saying whenever her vehicle reaches any village it is greeted with loud cheers for her, BJP and Modi.  Jaitley also dismissed Gandhi's assertion yesterday that Congress would not support a Third Front government, saying its earlier track record does not inspire confidence.  
"The choice now is clear. It is either a Modi-led NDA or a chaotic coalition. Obviously, a chaotic coalition cannot be an option," he said, stressing that indications are that NDA is heading for a comfortably majority.