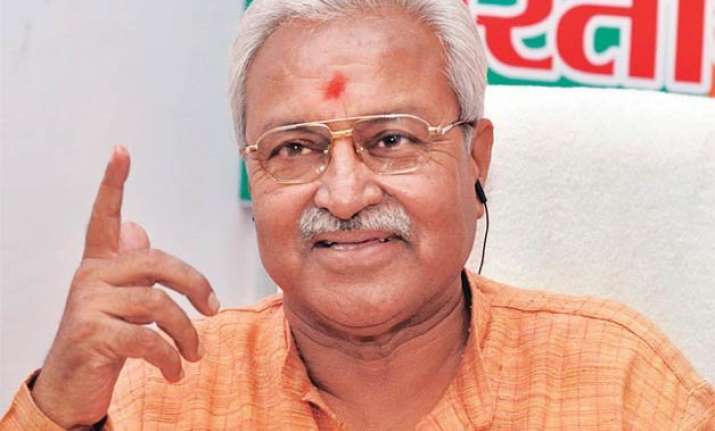 Bahraich:  Uttar Pradesh BJP chief Laxmikant Bajpai has hit back at Rahul Gandhi over his "suit-boot ki sarkar" remark against Narendra Modi government, saying if the Congress vice-president is "real sympathiser of farmers", then he should ask his 'suited-booted' brother-in-law to return the land to them.
"If the Congress leader is the real sympathiser of farmers he should ask his 'suited-booted' brother-in-law to return the land of Haryana farmers that is in his possession," Bajpai said yesterday.
The probe into alleged controversial land deals of Vadra, especially the DLF-Vadra deal in Manesar (Gurgaon), was a major issue for the BJP in the run-up to the parliamentary elections in 2014.
Bajpai also took a swipe at Gandhi scion over his 59 days sabbatical and the padyatra he held in Telangana to reach out to the agrarian community, saying he doesn't have any concern for his constituency .
"After remaining missing for 59 days now Rahul Gandhi is moving about in Telangana to project himself as the sympathiser of farmers whereas he does not have any concern for his constituency Amethi," Bajpai said, adding, that Gandhi family considered Amethi and Rae Bareli as their personal fiefdom.
Meanwhile, commenting on the recent beef controversy, Bajpai said "I want to say that since consumption of beef hurts the feeling of the majority, other communities should not indulge in it".
Lashing out at the Samajwadi Party government, he said, people in the state, including farmers, labourers and unemployed, all were feeling harassed and crime against women was increasing.
While addressing the party workers, Bajpai said that his party is preparing lathi- wielding teams to check loot of votes at the booth level during elections.
"BJP is preparing lathi-wielding teams to adopt the formula of tit for tat for those indulging in loot at the booth level (during elections)", he said.
"BJP workers will not allow anyone to loot booths ... I am not Gandhi who will offer the other cheek ", Bajpai added.