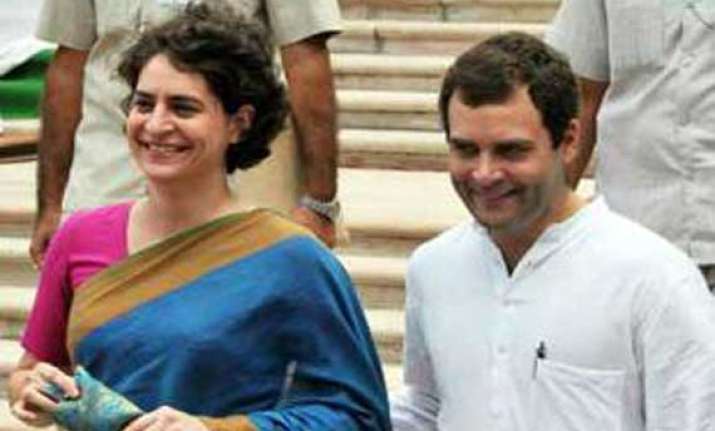 Lucknow, July 23: Congress vice president Rahul Gandhi and his sister Priyanka Vadra will arrive in his parliamentary constituency Amethi Tuesday on a three-day visit.
Rahul Gandhi will interact with Congress workers and local leaders and give them tips on strengthening the party.
Congress leaders said the brother-sister duo's chopper would land at the Indira Gandhi International Aviation Academy in the morning from where they will go to the Sanjay Gandhi guest house in Munshiganj. They will then meet local party workers and assess the party's preparedness for the forthcoming Lok Sabha elections.
"There are not too many official engagements of the Congress vice president. He is very keen on one-on-one meetings with the local leadership and grassroot workers to understand their problems viz-a-viz the state's ruling Samajwadi Party (SP). He will also inform workers about various projects and schemes like food security of the Manmohan Singh-led UPA government at the centre," a local leader told IANS.
Both Rahul Gandhi and Priyanka would participate in an event at the Central Reserve Police Force (CRPF) station at Trisundi in Bhadar July 25. Sources said Union Minister for Home Affairs Sushil Shinde is scheduled to attend the function.
Rahul Gandhi and Priyanka will fly back to New Delhi the same day.