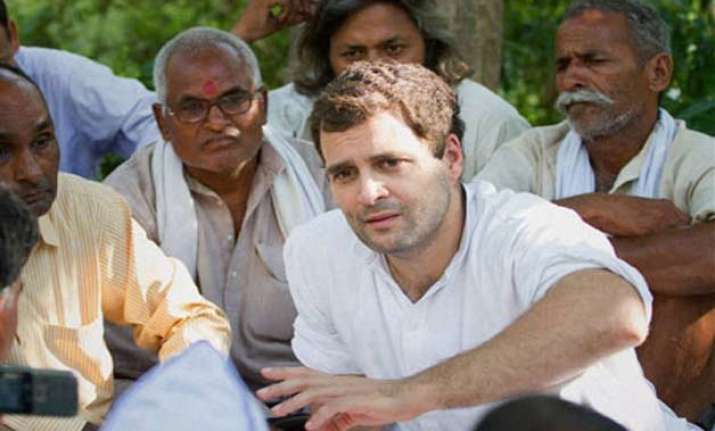 Amethi: Continuing the tour of his parliamentary constituency Amethi, Congress MP Rahul Gandhi today met family members of those who lost their lives in the Bachrawan rail accident on March 20.
Traversing through the dusty lanes of Ganga Mishka Purwa of Purwa village, Rahul's cavalcade stopped near the house of Sanjay Misra, who along with his family members, was travelling in the ill-fated train and lost his sons aged four and five.
Misra has been left with a fractured left leg, while his wife is still experiencing acute pain due to injuries in the abdomen.
Sitting next to Misra's cot, Rahul enquired about the accident and his health and also the help that has come to him.
"How is your condition? You must be better now," Rahul asked his wife, who said she still had pain and could not stand for long.
SDM, Gauriganj, Vandita Srivastava, who was present, assured the family that she will send the lekhpal and see what can be done.
Before departing, Rahul held Misra's hand and patted him reflecting personal affection to pep up his sagging spirit.
At Narayanpur, Rahul made a brief stop at the house of Nikhil Misra, another victim in the rail tragedy and met his family members.
Misra's young son attracted Rahul's full attention.
Embracing him, Rahul asked what he wanted to become when he grows up as other family members got busy in recounting their woes.
Rahul also condoled the death of Musafirkhana block Congress Committe President Rama Shankar Singh's mother by visiting his house in Dadra village.
At one place, veteran Congress worker Kamala Kashyap was surprised to see the party vice president at her door steps.
She took him around her dilapidated thatched house and said it was in dire need of repair ahead of monsoon.
Today was Rahul's second day of his 3-day visit to Amethi the first time after his return from a nearly two-month-long sabbatical