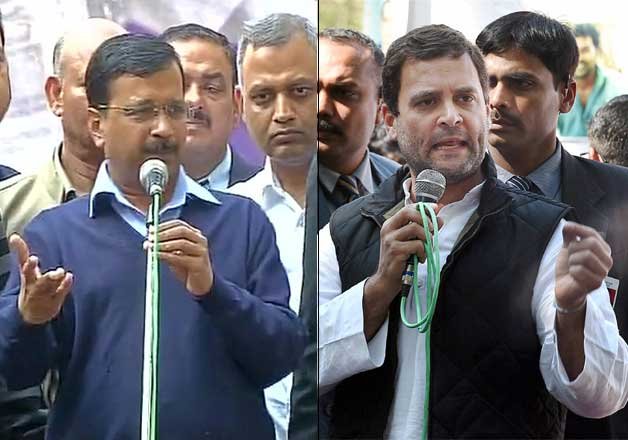 New Delhi: Congress Vice President Rahul Gandhi and Delhi Chief Minister Arvind Kejriwal today lent their participation to a protest march organised by the family and friends of Dalit scholar Rohith Vemula, who committed suicide in the university campus in Hyderabad. The protest march saw hundreds of students, including those from the Jawaharlal Nehru University (JNU), express their solidarity to the cause.
Though both leaders did not share stage – they marked their appearance at different times - they did mark their presence felt at the protest venue, expressing similar views against the ruling dispensation. 
Targeting the Narendra Modi-led government over the issue of Rohtih Vemula's suicide and the JNU row, Rahul Gandhi said that voices with new ideas were being crushed in the country. "Our universities are being encroached upon. Rohith's voice was muzzled. We need a law which doesn't let students' voices in colleges and universities be stifled," he said addressing the crowd.
Attacking the RSS over its ideologies, Rahul said, "Rohith talked about future of India, but RSS doesn't support that but only support talking about the past," he added.
Aam Aadmi Party chief Arvind Kejriwal also launched an attack on the BJP saying that this government was at war with the students of this country.
"If someone tries to go against the nation, he won't be spared. Similarly, if innocents will be harassed like what the Centre is doing, it won't be tolerated. Modiji ab bhi samay hai sudhar jaiye, warna janta aap ko ukhaad phekegi. (People will throw you out Modiji if you don't mend your ways of dealing)."
"All the thugs and loafers are nationalists, whereas Aamir Khan and Rohith Vemula are anti-nationalist," he said in an apparent dig at the Centre's handling of affairs.
Held under the banner of Joint Action Committee for Social Justice of University of Hyderabad, the march was organised from Ambedkar Bhawan to Jantar Mantar. Students of the JNU demanding the release of Kanhaiya Kumar also joined in the protest.
Rohith Vemula committed suicide in a hostel room of University of Hyderabad on January 17th.
Bhartiya Janta Party's student wing, the Akhil Bharatiya Vidyarthi Parishad (ABVP), was blamed for forcing Rohith to take such an extreme step.