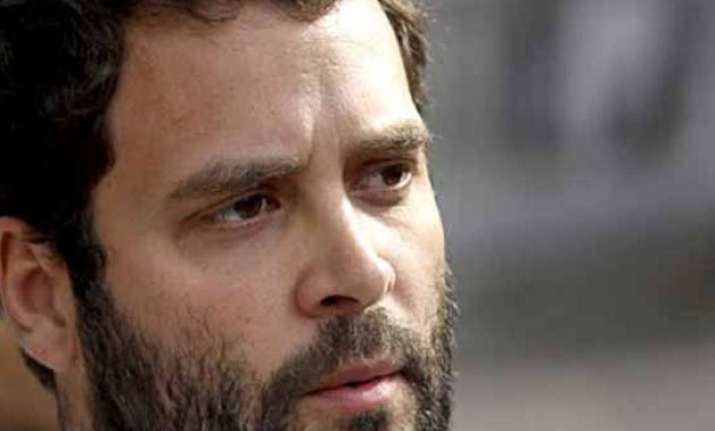 New Delhi: Congress Vice-President Rahul Gandhi's elevation to the party's president post is not a certainty, said senior leaders of Congress while speaking to media, adding that the All India Congress Committee Session is also unlikely to happen in April.
"He may become Congress chief later in the year," a senior Congress functionary said.
Ministers having spoken on the condition of anonymity told the Economic Times daily that the party is most likely to hold its plans of conducting the AICC session next month.
One of them also divulged that Rahul will only return at month-end. "Notice has to be given for a special session so it seems highly unfeasible", he added.
These ministers also slammed the rumors that there was any clash of thoughts of old vs new guard in the party.
On being asked about Rahul's absence from the political turf, they said that there was no basis to the theories that the Congress president's son left in a huff.
One leader even stated that Sonia Gandhi was aware that Rahul would be away for some time and she had no objections to the same. 
The same leader also said that both Sonia and Rahul play cohesive but complementary roles and that mother and son are "closely working on all issues as they always do".
"Sonia Gandhi is looking at Rahul to take the Congress forward", he added.
Many leaders of the party had said earlier in different words that decision-making in Congress was divided between Sonia and Rahul.
Kamal Nath, a member of the party had also said that it wasn't fair to judge Rahul Gandhi since he doesn't have full power.
Although it was told by some Congress leaders close to Rahul Gandhi earlier that he will ascend to the party's President's position in the AICC session of April however, the possibilities of the same were dismissed by these party leaders who spoke to the daily.
They said Rahul Gandhi and Sonia Gandhi have a final say on all matters political and that they closely work together. One leader said a final decision on Gandhi's appointment will be taken by the Nehru-Gandhi family together.
When asked what if Rahul's accession to the throne is opposed by some leaders of the party, they said that it is not possible according to the structure of the party as there's no leader of stature and mass base who can take on a Nehru-Gandhi.
"There is no revolt within the party on this. And frankly who can revolt? The leaders objecting are hardly Sharad Pawar type mass leaders with potential to split the party," this leader said.
The same leader also said that Rahul Gandhi's efforts to democratize Congress were being resisted by ""a small section of the party that wants to continue with the feudal model"
However, he said that the same section does not hold enough powers to stop Rahul from doing what he wants.