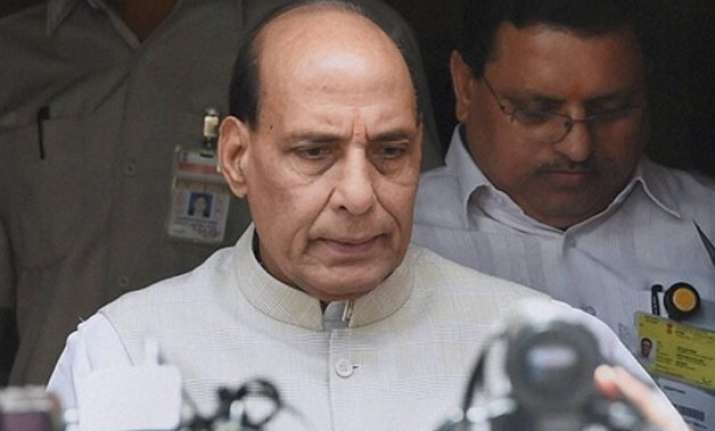 New Delhi: Union Home Minister Rajnath Singh has distanced his government from those 'worshiping' Nathuram Godse, the man who killed Mahatma Gandhi on January 30, 1948. Replying to a question in the Rajya Sabha on Thursday, Singh said that the state governments should take action against any one celebrating the assassin of the Father of the Nation.
"How can anyone worship Nathuram Godse?" Singh said.
Responding to members' concern, Singh pointed out that law and order was a state subject and suggested that if anybody indulged in such practices he or she should be controlled and dealt with by the state governments concerned.
"Centre has never stopped any state from taking action against those responsible for valorising the extremist who killed Gandhi," he said.
Singh's remark came in the wake of opposition parties attacking the NDA government after Hindu Mahasabha constructed a temple for Godse and BJP MP Sakshi Maharaj's remark calling him a nationalist.
Singh also dismissed the allegations against MoS for Human Resource Development, Ram Shankar Katheria, saying 'he had not used derogatory language against any community'.
The video of Katheria has been examined and nothing objectionable was found, he told the members.
"I heard Katheria's speech and I made others hear it. We all agreed there is nothing inflammatory in the speech," Rajnath Singh said while responding to a calling attention motion on alleged inflammatory speeches by Union Ministers and elected representatives in violation of the Constitution and the oath of office.
He also told the Rajya Sabha that India is the most secular country in the world despite its diversity and the fact that people of all faiths live here. "If there is any secular country in the world, it is India," the Home Minister said.
"India is the only country in the world where people of all faiths live," the Minister said, adding that "not only this, all major sects of all religions, including Islam and Christianity, are found here, which is not the case with any other country".
Katheria had on Sunday courted controversy after he allegedly delivered a hate speech during a condolence function held in Agra for a murdered Vishwa Hindu Parishad leader on February 28.
"This conspiracy that is being hatched against the Hindu community, we have to be alert to recognise it and strengthen ourselves," Katheria, who represents Agra constituency in the Lok Sabha, had reportedly said.
Further, he refused to subscribe to the anti-Muslim views vis-a-vis terrorism. "Terrorism has no colour or religion whatsoever," Rajnath Singh asserted and added that the patriotism of Indian Muslims cannot be questioned.
"How can you say that an Indian Muslim is not a nationalist," he asked when challenged that his party members were making all sorts of anti-Muslim statements.
Calling upon all political parties to join hands in protecting India's unity and integrity, he said, "A single political party cannot protect the country's unity and integrity. We all will have to make collective efforts for that. Every Indian has to ensure that India remains the biggest secular country of the world."