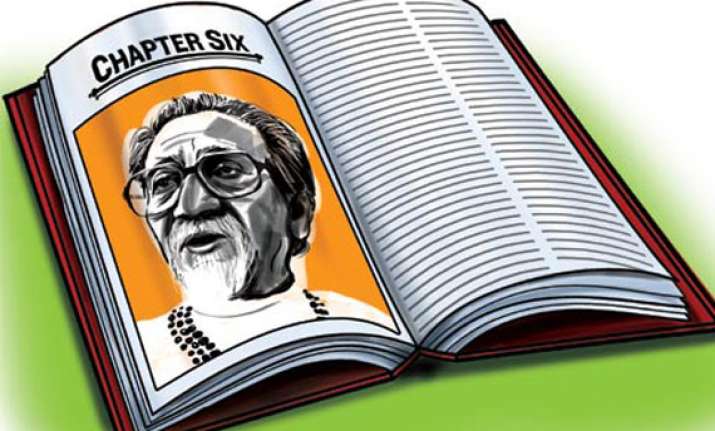 Mumbai, Nov 23 : Mumbai municipal corporator Raju Pednekar has submitted a proposal asking for the inclusion of   Shiv Sena founder Bal Thackeray's life in the state education board's history curriculum, reports MidDay.
Paying homage to Bal Thackeray at the BMC's general body meeting  on Thursday,  Law Committee Chairman Raju Pednekar called for the inclusion of  Thackeray's life in state board textbooks. 
N K Jarag, the director of the State Council Educational Research and Training (SCERT)  pointed out that special permission from the government would be required to incorporate events and incidents that took place after the year 2000, in history textbooks.
At the meeting, Pednekar said, "He was a great leader and his speeches were heard with great keenness. His life should be included in school curriculum in the future." 
A proposal for the same was given verbally, and a written submission will be made soon.
Jarag told the newspaper that the history curriculum needs to be updated to include more events and leaders from the recent past.
He said, "The history curriculum needs to be changed, as many students cannot recollect the names and dates from very far back in the past. We are slowly including different things in the curriculum for history.
"This time, for instance we have included matter on terrorism. I haven't received any intimation from higher authorities yet on including Bal Thackeray in the curriculum, but no incidents taking place after the year 2000 can be incorporated in the curriculum, unless there is special government approval."
Raj Aloni, a school principal said, "Balasaheb is a great inspiration for young minds for his great leadership qualities. He came from a humble background and founded a vast organisation with crores of followers.
"He was a multi-dimensional figure, a fighter of injustice, a world-class cartoonist and a mesmerising orator. He is a role model for today's generation. Such a great personality should be included in the textbooks."
Arundhati Chavan, principal of Swayam Siddhi College of Education (B Ed) and president of the PTA United Forum, said, "I agree with the SCERT director that history textbooks need to be changed.
"Balasaheb has done great things for the people of Maharashtra, benefiting people living in the state. But besides Balasaheb Thackeray, there are many other national-level leaders who deserve inclusion in the textbooks. They too should be added to the curriculum."