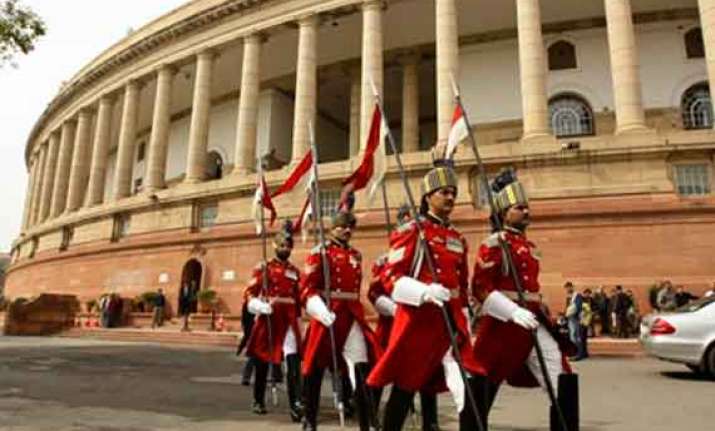 New Delhi: Perhaps for the first time, the presentation of Union Budget in the Lok Sabha was halted briefly today as Finance Minister Arun Jaitley felt uncomfortable while reading out his speech and wanted to take a break.
The 61-year-old had a "cramp" in his back after he spoke for about 45 minutes and requested Speaker Sumitra Mahajan for a break.
He was advised to do so by External Affairs Minister Sushma Swaraj and Home Minister Rajnath Singh, who were sitting next to him, as he looked uncomfortable.
Mahajan adjourned the House for five minutes at 11.45 AM to allow Jaitley to take rest.
Immediately, a medical team came for assistance of the Finance Minister who refused to take it and wanted to just take rest.
Union Ministers Nirmala Setharaman, Prakash Javadekar, Venkaiah Naidu, Ravi Shankar Prasad, Harsimrat Kaur Badal, Ananth Kumar, Lok Sabha Secretary General P Sreedharan and others came to Jaitley and enquired about his health.
Parliamentary Affairs M Venkaiah Naidu went to Opposition benches and explained to Congress leader Mallikarjun Kharge why Jaitley was taking the break.
Congress leader Jyotiraditya Scindia and TMC leader Saugata Roy also came to Jaitley and enquired about his health.
Javadekar was also seen explaining to some members, including from Opposition, that Jaitley was having back pain.
When the House reassembled, the Speaker said the break was given since he felt "slightly unwell". She then allowed him to resume the budget presentation while being seated.
Jaitley first stood up and he was grateful to the Speaker and the members for bearing with him.
He said he was facing a problem due to "little cramp in the back".
He then went on to speak for over two hours but kept sipping water at regular intervals.
The treasury benches thumped the desks many times during the Budget presentation.
Members from West Bengal and Kerala, however, protested saying that their states have been ignored.
Trinamool Congress members were asking as to why there was no announcement for West Bengal's jute industry.