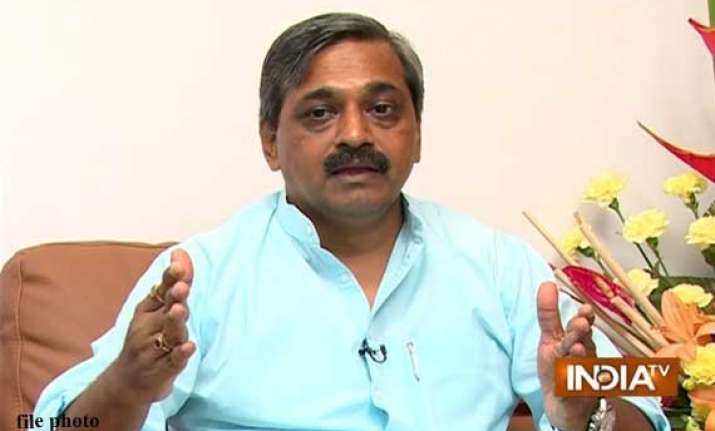 New Delhi: A day after BJP registered an impressive showing in Haryana and Maharastra Assembly polls, the Delhi unit of the party said the political uncertainty in the national capital must end soon and that it was "fully" ready to face fresh election immediately.

Delhi BJP chief Satish Upadhyay said there has been a groundswell of support for the party across the country and it was ready to face polls in the city even tomorrow.

"We are fully ready to face the election. We are prepared even to go to the polls tomorrow. We are confident that if election is held, BJP will get a very clear mandate," he said.

Seeking end to political uncertainty in Delhi, he said development work has been affected to a great extent in absence of an elected government. Delhi has been under President's Rule since February 17 after the Aam Aadmi Party government quit.

"Uncertainty must end. There should be an elected government in Delhi as soon as possible. How long bureaucrats will run the city?" he asked.

Yesterday, Delhi BJP General Secretary Ramesh Bidhuri had said the party will not form government even if Lt Governor Najeeb Jung invites it to take the reins as it prefers going to polls.

The Lt Governor last month had sent a report to President Pranab Mukherjee seeking permission to invite BJP to form government in Delhi.

In the report, Jung gave a detailed analysis of the political situation and underlined the need to have an elected government in the city which is under central rule following resignation of the Arvind Kejriwal-led government after 49 days in power.

The Centre is likely to respond to the Lt Governor's letter after Diwali.

BJP has been maintaining that it will take a decision on government formation in Delhi after getting an invite from the Lt Governor.

In his report to Mukherjee, the Lt Governor has said though no party has staked claim to form government in Delhi, BJP could be invited to take the reins as it is the single largest party in the 70-member Assembly.

Jung has observed that all options for putting in place an elected government should be explored before contemplating holding of fresh polls.

Currently BJP, along with ally Akali Dal's lone MLA, has 29 legislators and will require the support of five more MLAs to prove majority in the Assembly.

The party had emerged the single largest party after the Assembly polls in December last year with 31 seats besides ally Akali Dal's one MLA.

BJP fell four seats short of a simple majority and had refused to form government saying it did not have the numbers and will not resort to any "unfair means" to attain power.

AAP with 28 MLAs had later formed the government with support of eight Congress MLAs.

BJP's number came down to 28 in the House in May after three of its legislators--Harsh Vardhan, Ramesh Bidhuri and Pervesh Verma--were elected to Lok Sabha.

With the resignation?of three MLAs, the strength of the Assembly also went down to 67.

The government led by Kejriwal had resigned on February 14 after the party's pet project, the Janlokpal Bill, could not be passed due to opposition from BJP and Congress. President's Rule was imposed thereafter.

The Lt Governor had not favoured dissolution of the Delhi Assembly as recommended by the Council of Ministers headed by Kejriwal and kept the House in suspended animation.

Congress and AAP have been demanding immediate dissolution of the Assembly to pave way for holding of fresh election.