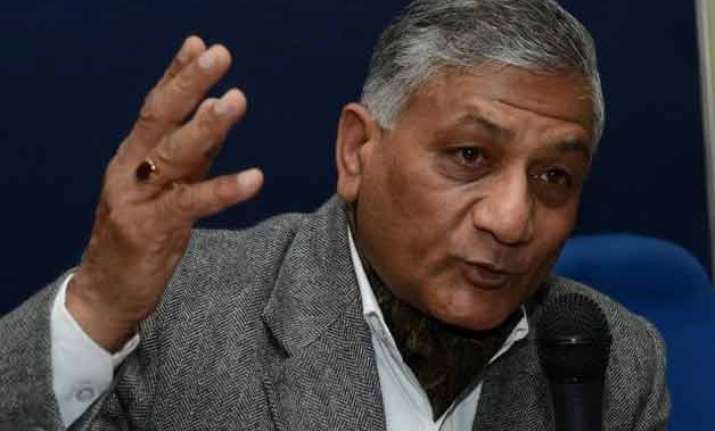 New Delhi: Minister of State (MoS) for External Affairs V K Singh has been pulled up by the Prime Minister's Office (PMO) for showing his disgust through the cryptic tweets of 'duty' and 'disgust' after attending the Pakistan Day event hosted by Pakistan High Commissioner Abdul Basit.
According to a report published in Economic Times, Singh was asked to clarify his tweets. His final tweet on March 23 read, "Disgusted to see how certain sections of the media are twisting this issue."
Singh met with the Prime Minister to discuss his tweets that were viewed by the government as unnecessarily controversial. Reportedly, he was called into a meeting with Prime Minister Narendra Modi, BJP party chief Amit Shah and External Affairs Minister Sushma Swaraj to discuss the matter.
The PMO took the offence as the decision to send a representative was taken by PMO itself. The leadership and officials believed that boycotting the event would have sent wrong diplomatic signals. India has only refused twice to send a representative to attend the Pak Day event; one was immediately after Kargil war and another after 26/11 attacks.
The issue was first discussed at the MEA level where a decision was taken not to send anybody for the event. External Affairs Minister Sushma Swaraj and her deputy V K singh both refused to go. The final decision was only taken in the evening when PMO called up Swaraj and asked her to represent the Government of India.
"When she expressed her inability, she was told to send Singh," said an official.
In a press conference yesterday, former Army Chief VK Singh clarified his stand on the whole issue. He rejected the media reports suggesting that he offered to resign after the controversy.