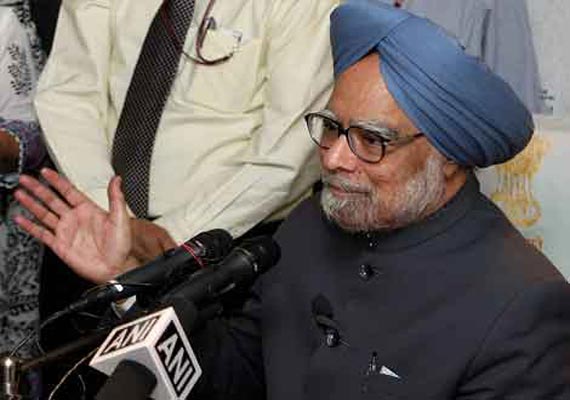 On Board PM's Special Aircraft, Aug 31: Hitting out at BJP for "diversionary tactics" on the coal allocation issue, Prime Minister Manmohan singh today rejected its demand for his resignation and hoped "good sense" will prevail on the opposition party which disrupted Parliament.
"If I was resigning, I would not be here," he responded firmly when asked a question on BJP's demand that he should step down in view of the CAG report on coal allocation issue.
"Well, I hope opposition will see sense...We have been elected by the people and I sincerely hope that BJP will respect the verdict of the people and let the government function," he told accompanying media on his way back from Tehran where he attended the Non-Aligned Summit.
Asked why he was allowing BJP to set the political agenda, he said "I have to maintain the dignity of the office of the Prime Minister. I cannot get into 'tu-tu mein-mein' or in a slanging match with political leaders. It is better, as said I earlier, that I keep silent."
"I sincerely hope, even now it is not too late that BJP recognise that there is too much at stake, we all have an obligation—the opposition as well as the government to work together" to tackle the problems of the country effectively," he added.
"Unfortunately from one crisis to another, BJP's politics has been to disrupt parliament...These are all diversionary tactics....We are preoccupied all the time. These diversionary tactics naturally affect the capacity and the ability of the government," he said.
Asked about the protest by eight parties, including Samajwadi Party and the Left, against the continued disruption of Parliament, he said though he was not "well informed" about the political developments in his absence but "if they are coming together to plead with BJP that what is going on in Parliament, the impasse in Parliament which is not good for the country and for Parliamentary democracy, then it is welcome."