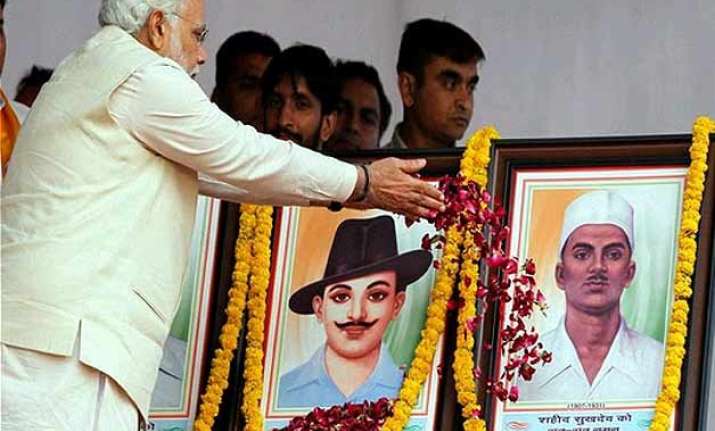 Chandigarh: Prime Minister Narendra Modi will today pay homage to freedom fighters Bhagat Singh, Rajguru and Sukhdev at Hussainiwala in Firozpur district where their last rites were performed in 1931.
The Prime Minister arrives at the Amritsar airport in afternoon and travel to Hussainiwala by helicopter, Punjab Bharatiya Janata Party (BJP) president Kamal Sharma said.
The last rites of the three freedom fighters were held in Hussainwala after they were hanged in Lahore on March 23, 1931.
Modi will address a 'Shridhanjali Samaroh' at Hussainiwala, about 260 km from here and close to the India-Pakistan border.
The Prime Minister will then visit the Sikh holy city of Amritsar to pray at Harmandar Sahib, the holiest of Sikh shrines and popularly known as the Golden Temple, and at the nearby Durgiana Mandir.
Modi will also visit the Jallianwala Bagh ground where hundreds of innocent Indians attending a rally where shot dead by British troops on April 13, 1919.
This will be Modi's first visit to the state after assuming office in May last year.