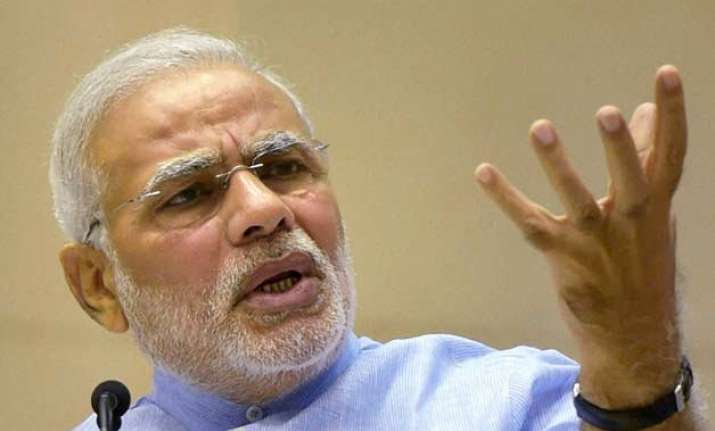 New Delhi: Prime Minister Narendra Modi today hailed the progress achieved by his government in last one year.
Addressing the media after the BJP Parliamentary Party meeting, the Prime Minister said the work done by his government is far better than that of the previous Congress-led United Progressive Alliance (UPA) regime.
On improving foreign relations with Pakistan, Modi said that the NDA government is capable of developing good relations with neighbouring country.
The BJP Parliamentary Party, in a unanimous resolution passed at its meeting chaired by Modi here, backed initiatives to ensure social security for poor and vulnerable sections of society and provide transparent and accountable governance.
"The BJP Parliamentary Party has commended Prime Minister Narendra Modi for arresting the drift in governance by infusing the much desired sense of purpose and for improvising the governance architecture through cooperative federalism, for providing transparent and accountable governance and for enhancing the country's standing and image among the international community," the resolution said.
Speaking to media, Union Minister of State for Minorities Affairs Mukhtar Abbas Naqvi said the meeting discussed the work the government did in the first year of its inception.
Naqvi said that the BJP-led government has aggressively raised the issue of black money.
 
"Today we discussed the work we have done in one year of us being in power. We have raised the issue of black money within one year of us being in power," he said.
"Prime Minister Narendra Modi told the party MPs that there will be week-long celebrations on completion of one year of NDA government and MPs will highlight the initiatives taken by the government in each of their constituencies," he added.
The Union Minister further said that it was the NDA government which solved issues with India's neighboring countries like Sri Lanka and Bangladesh.
The party had earlier said that Union Ministers, MPs and functionaries will go to various parts of the country to tell people about the welfare measures taken for underprivileged sections and farmers as part of a week-long 'Jan Kalyan Parv' from May 26.
Union Minister Piyush Goyal said the party was unanimous in appreciating Modi's leadership and hoped government will succeed in fulfilling the promises made.
The BJP stormed into power in May last year riding on the crest of a Narendra Modi tsunami which gave a clear majority to a single party for the first time in India for 30 years.
The government will complete its one year in office on May 26.