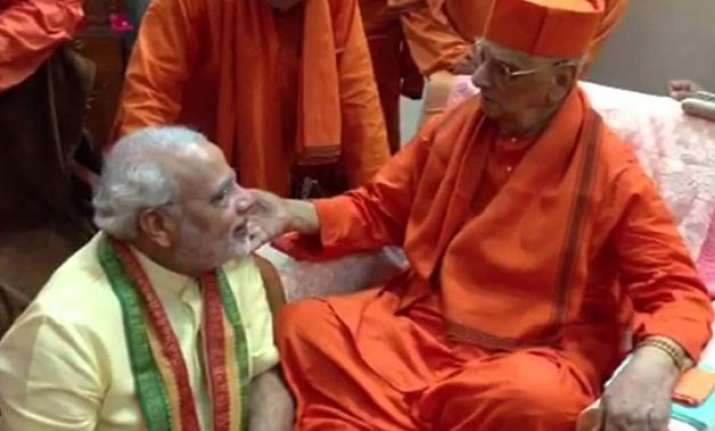 New Delhi: Swami Atmasthanand Maharaj of Ramakrishna Math and Mission Order had once turned away a boy who had come to join the order for becoming a monk. Had the swami accepted the young boy's request then India probably would not have seen him taking over as 15th Prime Minsiter of India.
By now you must have guessed that the boy was none other than Narendra Bhai Modi who will be  visiting the ailing Swami during his day-long visit to Kolkata today.
"Modiji treats him as his guru and wants to meet him since our Maharaj has grown very old and is in hospital for a long time. When both of them were in Rajkot, Modi used to go to him to seek guidance," said Subirananda Maharaj, assistant secretary of the Math.. Swami Atmasthanand, president of the order started by Swami Vivekananda, is 97 years old and is suffering from old-age illness.
According to some reports, Narendra Modi had a "prasadi" flower from Swami Atmasthananda in his jacket pocket when he took oath as Prime Minister on May 26, 2014.
Swami Atmasthanand Maharaj  has been admitted to Ramakrishna Mission Seva Pratishthan since February 21, where Modi will meet him during his visit. After Modi won the elections last year, the senior monk had congratulated him and invited him to visit the Math.
The Prime Minister is also scheduled to visit Belurmath, the global headquarters of the organisation.
"Belurmath is very close to his (Modi's) heart. He will most probably come here to visit the temples and pay obeisance to Swami Vivekananda," the monks said. During his last visit to Belurmath in 2013, Modi had spent some private moments in Vivekananda's room where he also meditated.
In 1966 at the age of 16, Modi had visited Belurmath to join the order but his request was turned down by the Swami as he was underage.
During his Kolkata visit, Modi will also launch three flagship social security schemes - Pradhan Mantri Suraksha Bima Yojana (PMSBY), Pradhan Mantri Jeevan Jyoti Bima Yojana (PMJJBY) and Atal Pension Yojana (APY).
Swami Atmasthananda is the fifteenth president of Ramakrishna Math and Ramakrishna Mission. He was elected to  this position on 3rd December 2007.
Under him, the Math and Mission conducted massive relief and rehabilitation operations in various parts of India, Nepal and Bangladesh.
Meanwhile, Modi has promised RKM a proper investigation into the theft of  relics of Ramkrishna Paramhansa's wife, Ma Sarada, stolen from the museum in Belur Math and help RKM get the house where Swami Vivekananda had lived for some days in Aligarh.