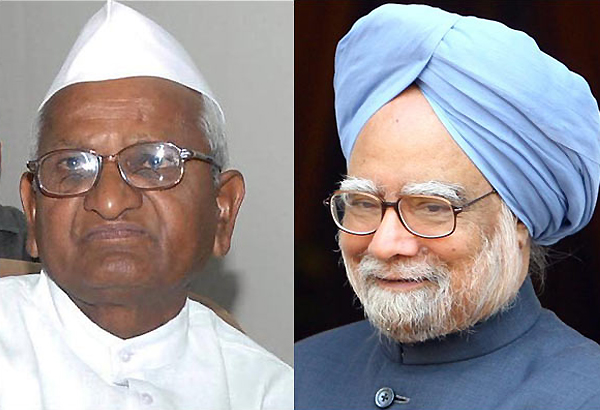 New Delhi, Aug 20: Claiming that UPA can get a Lokpal Bill passed if it wanted, Anna Hazare today alleged that Prime Minister Manmohan Singh was misleading people by harping on lack of consensus among parties when his party had managed support from others on issues like Presidential election.




In his latest blog, Hazare sought to take on Singh for his remarks during Independence Day speech in which he said there was lack of consensus about Lokpal Bill while expressing hope that it will be passed soon.

Hazare termed this argument as an "attempt to mislead" the country on the issue of anti-corruption legislation.

"Despite opposition from allies, you managed to get the law on nuclear sector passed by majority. In Presidential election also, despite opposition from allies, you managed to get the majority.

"But on the issue of Jan Lokpal Bill, you are saying that you are not getting the support of parties so there will be delay in its passage. This makes it clear that you (Prime Minister), your government and your party is misleading the people," Hazare said.

He said if the government was so keen to get rid of corruption, nothing was impossible for them to get the bill passed.

"If you have taken the same pains as your government has taken to get the nuclear (liability) law passed, the President elected, then you won't need much time to get the Lokpal Bill passed. But your government does not have the intention," he said.

Hazare said he will tour the country in the next two-three months telling people about what the government did on Lokpal issue.

He reiterated that he won't contest elections or join any party but work towards providing a political alternative for the country.