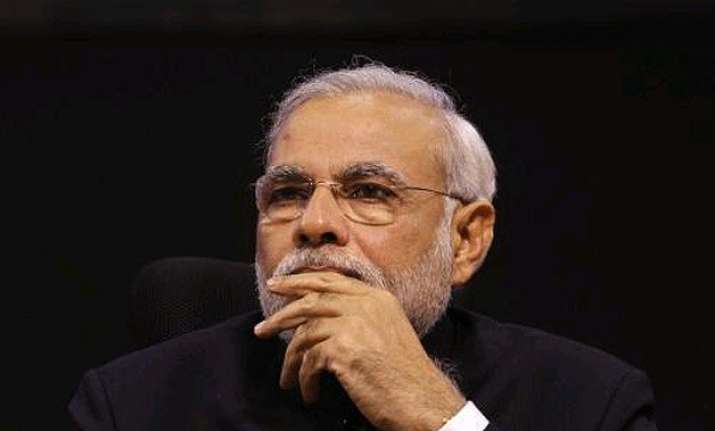 Suratgarh: Prime Minister Narendra Modi Thursday launched a Soil Health Card scheme, under which the Centre plans to target over 14 crore farmers in the next three years to check the excess use of fertilisers.
Pointing out that soil health has deteriorated due to high usage of fertilisers, Modi asked farmers to take care of soil. The card, to be issued after testing soil, would help them save up to Rs 50,000 in 3 acres of land, he added.
Modi also said that the newly set up Niti Aayog and the states have been asked to constitute high-powered expert committees on agriculture to boost farm growth.
"We used more urea, more water and more fertilizers to get more benefits but as a result of it, the soil health deteriorated. Now, it is high time we pay attention towards it. Therefore, the government is today launching this national scheme," Modi said here after launching the central scheme.
The card, which will carry crop-wise recommendation of fertilisers required for farm lands, will help farmers identify health of soil and judiciously use soil nutrients.
Farmers need to do away with traditional farming techniques and adopt scientific methods of agriculture to raise crop yields, Modi said, adding that the farming strategy should depend upon the quality of soil.
Modi asked farmers to be more concerned about soil health and said that "like we care for our health and body, we also need to pay attention towards the soil and land which is our 'Dharti Mata' (motherland). If we care for the soil, it will care for us and will give more benefits".
Referring to the song "Vande Mataram," Modi said that in order to achieve land that is truly "Sujalam, Sufalam," (well- irrigated and fertile), it is necessary to nurture soil and the soil health card scheme is a step towards fulfilling this dream.
Calling for soil testing to be made a regular feature, the Prime Minister said a new class of entrepreneurs could set up soil testing labs even in small towns.
Besides soil health, the Prime Minister asked farmers to use drip irrigation to get more crop from each drop of water and to keep the land and soil away from the hazards of using water more than required.
Modi said that the NDA government is giving bigger responsibility to states in boosting the agriculture sector.
The Prime Minister said that he has directed Niti Aayog and the states to set up high-powered expert committees on the agriculture sector. MORE
"Till now it used to be a top to bottom approach. Now, we are going to take bottom to top approach. First, the state will prepare a policy on agriculture, later the Centre will come up with a policy after discussing with states. This initiative has already started," Modi said.
"We want that the government of India with all state governments scrutinize common minimum things (in agriculture sector) and implement it for the entire nation," he added.
Stating that agriculture is the key to poverty eradication, Modi asked farmers to take up farming in three parts.
"Firstly, carry on with traditional farming which you have been doing, but use more scientific and modern techniques. Secondly, grow more trees on the boundaries of your farm fields, which otherwise are kept unused. Thirdly, take up poultry, fisheries, dairy and other allied activities to raise your income," he said.
Speaking at the event, Union Agriculture Minister Radha Mohan Singh said that scheme assumes importance because imbalanced application of fertilisers has caused deficiency of nutrients in most parts of the country.
"We are planning to distribute the cards to 3 crore farmers in this financial year... Short cut ways like MSP and subsidy were used in the country to provide relief to farmers but now we will through the scheme not only bring down production cost but also increase quality production as well as profit," he said.
The scheme will be implemented in all states to promote soil testing services, issue of soil health cards and development of nutrient management practices, he added.
Krishi Karman Awards were also given on the occasion by the Prime Minister who said that the government has come out of the national capital to distribute these awards.
Rajasthan Governor Kalyan Singh and Chief Minister Vasundhara Raje, Punjab Chief Minister Prakash Singh Badal, Union Ministers Rajyavardhan Singh, Nihal Chand and Sanwar Lal were among present at the event.