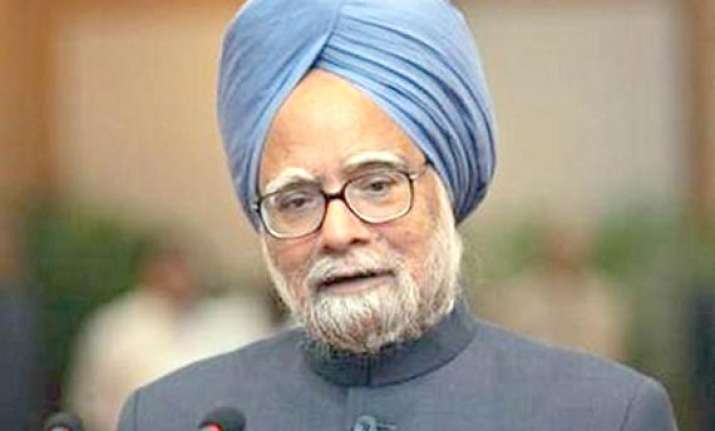 Onboard PM's Special Aircraft, May 31: Prime Minister Manmohan Singh today indicated that a Cabinet reshuffle could be on the cards to fill up the vacancies.
"There are some vacancies. The issue of filling them up is being considered," Singh told reporters on his way back from Japan and Thailand.
The Prime Minister was asked whether he was contemplating a Cabinet reshuffle in view of vacancies created by the resignations of P K Bansal and Ashwani Kumar. 
Bansal quit as Railways Minister earlier this month in the wake of bribery scandal involving his nephew and a Railway Board member.
Kumar also resigned as Law Minister following controversy over vetting of a CBI probe report on coal block allocation scam.
The portfolio of Railways has been given to Road and Highways Minister C P Joshi as an additional charge while that of Law has gone to Telecom Minister Kapil Sibal as additional ministry.
Besides, there are a number of other ministers holding more than one portfolios.
The Prime Minister, while interacting with the mediapersons on board the special aircraft, also rejected reports of a rift between him and Congress President Sonia Gandhi, asserting that there was no truth in it as the two worked together almost on all issues. 
"In all truthfulness, there is no difference of opinion between me and the Congress president," he said. 
"This perception that on certain issues there were differences of opinion, there is no truth in that... We work together on almost every issue and where consultations are needed, I consult the Congress president," he said while responding to a question about perception of a trust deficit and divergences between him and Gandhi.  
He was also asked whether Gandhi had nudged him against his wishes to get the resignation of Ashwani Kumar and whether he faced a tough situation when CBI Director Ranjit Sinha named a joint secretary in the PMO as having made changes in the agency's affidavit to the Supreme Court on Coalgate. The Prime Minister did not spell out his response to this.
The Prime Minister also slammed Opposition for its "obstructionist" role in Parliament, saying it has become more impatient than ever before.
He made a fresh appeal to the political parties to help the government clear important legislations in Parliament and stop its "obstructionist role".
"It is unfortunate that opposition has become more impatient than ever before. They never expected that we would win the election for UPA-l and were doubly disappointed when we won the election for UPA ll.
"Therefore, the obstructionist role of the opposition has increased enormously in recent years which is my great regret that some very essential business of the House has not been transacted because of these animosities of the opposition against the government," he said when asked about the three biggest regrets he has had over the past nine years in office. 
Government, he said, will make all possible efforts to ensure that the essential business is conducted smoothly. 
"I appeal once against to all the political parties to help the government in this process," he said. 
Asked whether government was planning to reach out to the Left or Mamata Banerjee's TMC for UPA-III, Singh said, "Well, in politics, there are no permanent allies and no permanent enemies. These possibilities, some people coming in, some people going out, they have to be accepted as they are". 
The Left had deserted the government in UPA-I and Banerjee had snapped ties with the government in UPA-II.  Singh kept up the suspense when asked whether he aspires for a third term in office if the UPA comes to power after the Lok Sabha elections slated next year.
"When I filed my nomination papers, I had clearly stated that it has been my great privilege to represent Assam in the Rajya Sabha since 1991 and people of Assam have given me yet another opportunity to serve them," he said.
He went on say that he was very grateful to the people of Assam. "I have tried in my own way to serve the people of Assam to the best of my ability. I will do so with renewed dedication and commitment," he said. 
Last month, Singh had triggered speculation by remarking "I am not ruling it in, I am not ruling it out" when asked about him being a Prime Minister for a third term.