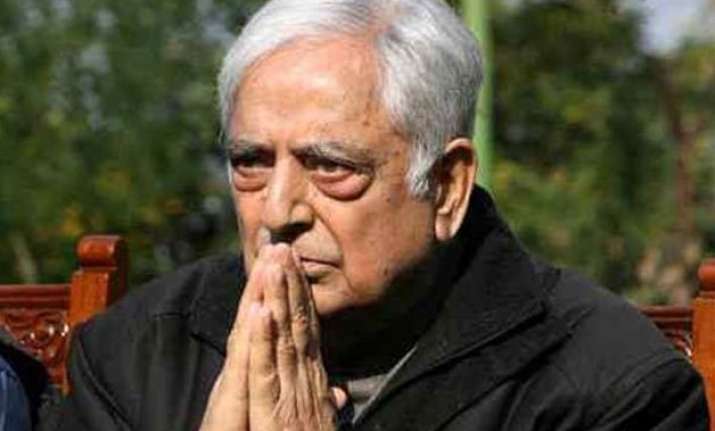 Jammu: After the bumpy PDP-BJP alliance followed by J&K Chief Minister Mufti Mohammed Sayeed's rash decision of releasing separatist leader Masarat Alam, the former has made up his mind to smoothen the future course of the two parties by implementing some confidence building measures.
 These would include – elevation of two BJP ministers of state with independent charge to Cabinet rank, setting up a coordination committee for better communication, allocating more portfolios to Sajjad Lone and more prominence to Deputy CM Nirmal Singh in the Valley. BJP has also shown a green signal to these.
On Wednesday, BJP's general secretary Ram Madhav, had a 30-minute meeting with the CM and state Finance minister Haseeb Drabu wherein they had discussion regarding the future course of the two parties. Ram Madhav and Drabu had drafted the common minimum programme of the alliance government.
ALSO READ: Ram Madhav meets Mufti Mohammed Sayeed, bats for 'Better Coordination'
A PDP leader on condition of anonymity told the Indian Express daily that the two discussed ways to avoid miscommunication in the backdrop of Alam's release.
A Cabinet minister of PDP said, "This will make the Cabinet more representative of the alliance and also enthuse the cadre in the local BJP unit."
Currently, the J&K Cabinet comprises of 11 PDP and only six BJP ministers. The two BJP MoS who are expected to be promoted to a Cabinet rank are – Abdul Ghani Kohli holding independent charge of transport and Chering Dorjay having independent charge of cooperatives. It is expected that their elevation will change the perception of a skewed Cabinet.
Another decision taken during the Wednesday's meeting was to set up a coordination committee which will include the state presidents of the two parties, besides three senior leaders from both BJP and PDP. According to the report, this committee will be set up in a week to ten days.
The PDP leadership also admitted of a communication gap on Alam's release due to which Prime Minister Narendra Modi also said in his speech of March 8 in the Parliament that he was not aware of what had transpired in J&K.
A step ahead, Sayeed is also planning to provide comfort to the BJP ministers in his Cabinet. "He asked Deputy CM Nirmal Singh to chair a sub-committee to meet various delegations in the Valley and assess the relief and rehabilitation of flood victims. The visit of the sub-committee to the Valley on Sunday — the day after Alam was released — was the first since the formation of the PDP-BJP government," said a senior PDP leader. This was also a measure of the importance PDP vests in the ties, he pointed out.
While some claim that this is mere optics, PDP leaders said that Mufti is keen to connect Jammu and Kashmir, and that such initiatives would revive BJP's lost trust in PDP.
Apart from this, PDP is also expected to expand portfolio of Sajjad Lone who was not satisfied with Science and technology and Animal Husbandry. It is likely that Lone, who is in the Cabinet on BJP's quota, may be further accommodated with additional portfolios, with both BJP and PDP agreeing to part with some departmental portfolios.