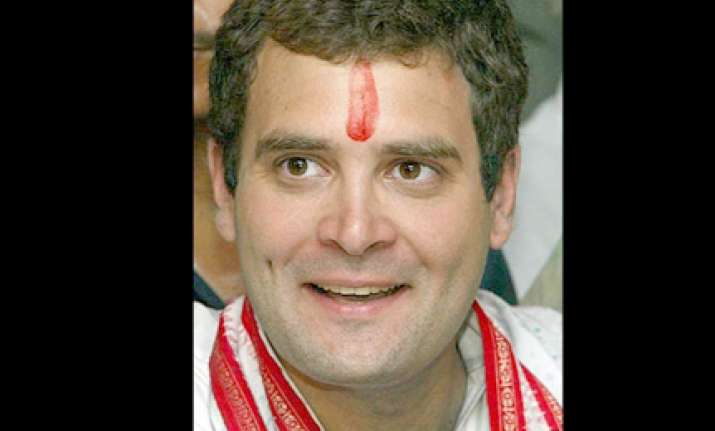 Attacking those who criticise and scoff at him for staying in Dalit homes, Congress leader Rahul Gandhi on Saturday blamed the opposition for trying to divide India between the rich and the poor. 
"The opposition wants to have one India for the rich and another for the poor," he told an election rally in Samalakha, about 175 km from Chandigarh, ahead of the October 13 Haryana assembly elections. 
Gandhi said his party was committed to work for the betterment of every section of the society, particularly the poor and the downtrodden. 
In his brief speech, he said the people had rejected the ideology of those who gave "India Shining" slogan. 
"You rejected the NDA in 2004 when they gave India Shining slogan. India was shining only for a selected few in which the farmers, poor and the Dalits were not included. In 2009 again when they raked up issues like terrorism and Pakistan, again you sent them home (defeated the opposition," he said. 
Slamming those who scoff at him and criticise him for visiting Dalit households, having food there and even sleeping in their homes, the Nehru-Gandhi scion said "those who never visited Dalit homes, the homes of poor and rural people and farmers, only took the slogans from television". 
"Our slogans don't come from TV. Our slogans come from villages, from the houses of poor living in slums," he said. 
Gandhi said a few months back when the Lok Sabha polls were held, people voted for the ideology of Prime Minister Manmohan Singh, Congress President Sonia Gandhi and Chief Minister Bhupinder Singh Hooda, once again rejecting those who were only talking of welfare of a selected few. 
"They gave India Shining slogan which was not in Hindi and only a few could understand. On the other hand Congress said 'Aam Aadmi Ki Sarkar' (government of common people). We believe that every person has to be part of the country's progress including the Dalits, tribals, poor and women," he said. 
Gandhi criticised the opposition for not visiting Dalit homes and not going to meet the poor in villages and said when he does that the opposition makes fun of him. 
Without taking any name, he said a leader once said India does not need farmers, but IT and computers.
"They eat the food produced by our farmers and then speak like that...I visit homes of the Dalits in villages, then they ask why am I doing that," he said. 
Referring to the visit of British Foreign Secretary David Milliband, who along with Gandhi spent a night at a Dalit home in the Congress leader's constituency Amethi in Uttar Pradesh in January this year, he targeted the opposition for trying to hide India's poverty. 
"I took him (Milliband) to see the rural India. He had asked me how the country was progressing so fast and I told him that you will need to go outside Delhi and Mumbai and meet farmers and rural people. 
"He came with me and had food with farmers and the poor, interacted with rural women and the next morning he told me that India's strength comes from its farmers," Gandhi said. PTI