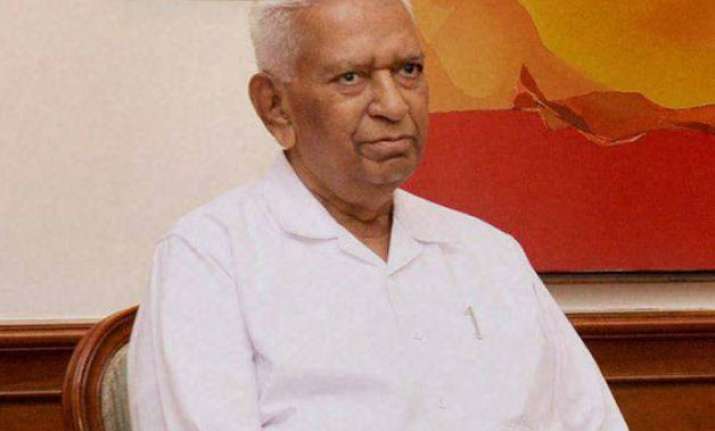 Bengaluru:  Lawmakers from the opposition BJP and JD-S on Wednesday urged Karnataka Governor Vajubhai Vala not to give consent to the amendment bill for splitting the Bengaluru civic corporation.
"We told the governor that the amendment to the civic act was a unilateral decision of the ruling Congress but against the will of the city's 10-million people," BJP lawmaker R. Ashok told reporters at Raj Bhavan after submitting a memorandum to the governor.
Earlier in the day, the amendment bill to the Karnataka Municipal Corporations Act was passed in the legislative council after lawmakers from the BJP and Janata Dal-Secular (JD-S) walked out though they were in majority in the 75-member upper house.
"If the bill is enacted into law, we will challenge the amended act in courts, as the council's select committee also opposed splitting the Bruhat Bengaluru Mahanagara Palike (BBMP) into two or more entities," JD-S leader and former chief minister H.D. Kumarswamy said.
The bill was re-adopted by the state legislative assembly on Tuesday after it was defeated in the council on Monday by two votes.
The poll panel has declared polling to the BBMP on August 22.
The assembly passed the amendment bill by voice vote at a special session on April 20 and sent to the council for ratification.
The century-old BBMP was expanded in 2007 by including seven city municipal councils and one town municipal council and 111 surrounding villages to increase civic wards to 198 from 100 earlier.
Jung and the AAP government have been involved in public spats even earlier, primarily over the Delhi government's powers to appoint and shift officials.
After the incident involving Dilip Pandey late on Tuesday, the AAP accused Delhi Police -- which reports to the Lt. Governor and the central home ministry and not to the Delhi government -- of acting at the behest of the Narendra Modi government.
"Delhi Police is working as the Modi government's tool in the national capital," AAP leader Sanjay Singh said. "It is dancing to the tunes of the central government."
An AAP delegation led by Sanjay Singh called on Jung on Wednesday evening and handed him a CD and "other evidence" to back charges that a police bus indeed tried to crush Pandey.
"The Lt.Governor promised to talk to the police commissioner to ensure action is taken against the culprit," Sanjay Singh said.
Pandey and the AAP alleged that the incident happened while he was speaking with journalists outside the Rajendra Nagar police station on Tuesday evening -- after an earlier AAP protest against the murder of a teenager last week.