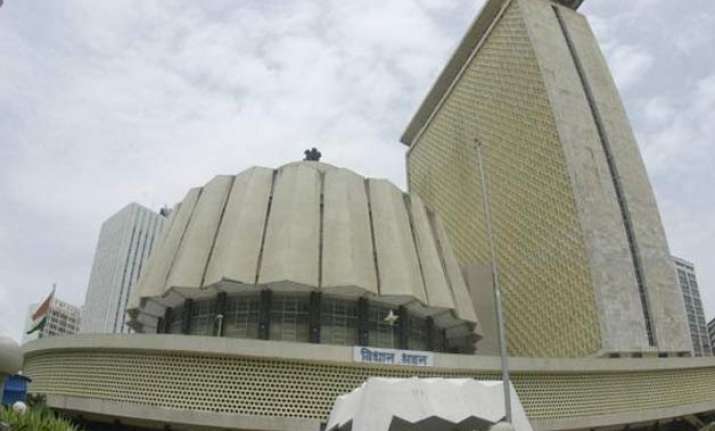 Mumbai: The Opposition Congress and NCP today boycotted the proceedings in Maharashtra Legislative Assembly here demanding that the government announce loan waiver for farmers.
Soon after Speaker Haribhau Bagde called for the questions, Leader of Opposition Radhakrishna Vikhe Patil demanded that the government first announce loan waiver after which the Opposition would allow proceedings to continue.  
All Congress-NCP members entered the Well of the House and shouted slogans in support of their demand.  Agriculture Minister Eknath Khadse said the government was ready to discuss the farmers' issues, while Speaker Bagde appealed to the Opposition members to take their seats and assured that he would hear them out.
Vikhe Patil said the Opposition would debate the farmers' issue only after a loan waiver was announced.  Bagde told the Opposition members that people in their constituencies were watching them and asked them to go back to their seats. He also said that he was noting the names of members who were tearing papers.
The sloganeering continued for a while and after few minutes, the Opposition members went back to their seats.  Vikhe Patil said everyday 8 to 10 farmers commit suicide which shows the extent of government's apathy towards them.
"We would have agreed to discuss the issue, but Chief Minister Devendra Fadnavis has already rejected the demand for loan waiver," he said.
Khadse reiterated that the government was open to discussions.
"There is a discussion from government side on farmers' issue. We will answer all questions related to farmers issues and inform the people through the forum of the august house on steps being taken to mitigate hardships of farmers," he said.
Khadse said the Opposition was playing politics over farmers' suicides.
Later, the Opposition members staged a walkout in protest.
The Opposition members, including former Chief Minister Prithivaj Chavan and former Deputy CM Ajit Pawar, squatted on the ground floor of Vidhan Bhawan building, staging mock proceedings of the House.
The Congress and NCP members spoke about how the Opposition's voice was allegedly being muzzled by the government and they were being prevented from raising issues concerning people.
They also shouted slogans against ministers facing corruption charges and Fadnavis for rejecting the demand for loan waiver.
Meanwhile, the Speaker continued with the Question Hour and Calling Attention Motion.
Later, Housing Minister Prakash Mehta, who is also holding the charge of Parliamentary Affairs in the absence of an unwell Girish Bapat, informed the House that he had requested the Congress and NCP to participate in the proceedings.
"The Opposition members told me that if the Speaker convenes a meeting of group leaders, they are ready to discuss (issues related to farmers) with the government," he said.