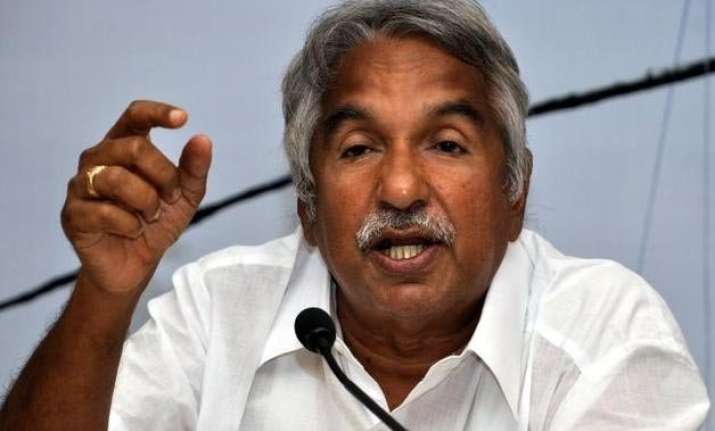 Thiruvananthapuram: Congress-led UDF government in Kerala today threatened to take legal action over police 'raid' at Kerala House in New Delhi on complaints of cow meat being served there, if the "mistake" is not admitted, and said it has affected Centre-State relations.
State cabinet at its meeting today discussed the issue and decided to take legal course if the Centre also sticks to the explanation given by Delhi police that "they only did their duty and carried out an inspection in accordance with law", Chief Minister Oommen Chandy told reporters here.
"The raid conducted without the permission of state officials at the state-run official guest house crossed all limits of propriety, violated law and also affected the Centre-State relation", he said.
The version of the Delhi police on the raid was "not at all acceptable to the state and we are waiting for the reply to the letter sent to Prime Minister Narendra Modi and Home Minister Rajnath Singh on the issue. Kerala will take legal action if the reply from Centre also collaborate with the stand taken by Delhi police on the matter", Chandy said.
He said cow meat, banned in Delhi, was not served at the Kerala House.
"But, buffalo meat, which is not banned, will be served from today itself at Kerala House no matter who opposes it," he said.
Chandy thanked Delhi Chief Minister Arvind Kejriwal and West Bengal Chief Minister Mamata Banerjee for their support to Kerala's stand on the issue.
He alleged that the raid was a "deliberate attempt to please somebody" and also to trigger fear in the minds of people. "Police came to Kerala House even without verifying the credential of the complainant," Chandy said.
Hitting out at the Delhi police, Chandy said the incident has affected India's federal system. However, he said "Kerala is ready to take a moderate view if mistake is admitted".
However, he refused to be drawn into the row over the need for ban on cow slaughter in the country saying "it is available in Kerala".
Asked whether beef row would have any political impact on the civic polls next month, Chandy said people of Kerala "notice everything and no need for any explanation to be given to them".
Action of Delhi Police entering Kerala House on a complaint that it serves beef on October 26 had triggered widespread protests and condemnation from various quarters.