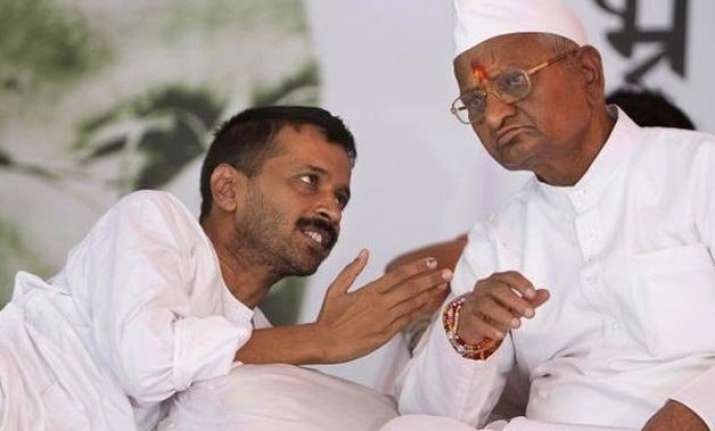 New Delhi: Anti-corruption activist Anna Hazare has said that Delhi Chief Minister Arvind Kejriwal can share dais with him at the two-day protest at Jantar Mantar beginning today but Congress vice-president Rahul Gandhi will have to sit within the common people in case if he wants to contribute to his agitation.
"I have spoken to Arvind Kejriwal, if he wants to contribute to the movement they are welcome. Arvind Kejriwal is a Chief Minister, he cannot be treated like any ordinary citizen. If all agree, will welcome Arvind Kejriwal on stage as Delhi Chief Minister. If Rahul Gandhi wants to come and sit within the common people, he can," Hazare told a news channel yesterday.
The Gandhian activist is schedule to begin his two-day long protest today against the recent amendments in the Land Acquisition Act by the Centre.
ALSO READ: 5000 farmers led by Anna Hazare marching to Delhi
He also said that 'if CMs of any state want to come and be a part of our protest, they can'.
He, however, quickly added that he will never join  politics nor will he support any political party.
The Gandhian activist, who launched a massive anti-corruption agitation which shook the then UPA government, is holding the protest to demand the withdrawal of the anti-farmer amendments to the Land Acquisition Act, 2013.
ALSO READ: AAP to join Anna Hazare's protest
Hazare said that 'Achhe Din' has only arrived for the corporates.
"It seems to be 'Achhe Din' only for the corporates. This ordinance is against the farmers and in favour of corporatism," he said.
Earlier on Friday, a group of farmers began marching from Palwal in Haryana. They will join Anna at Jantar Mantar on Tuesday.