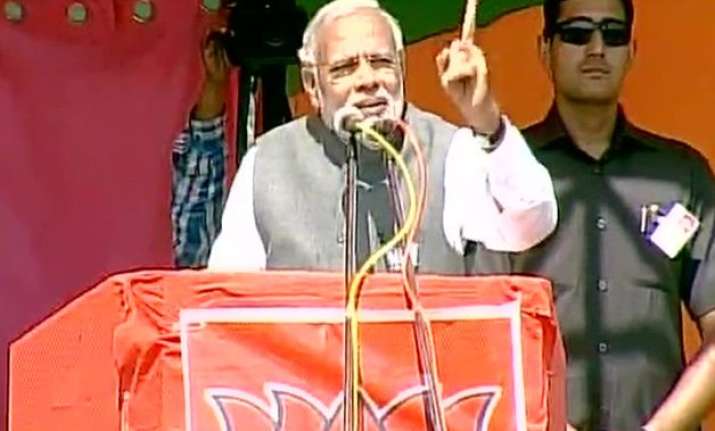 New Delhi: Prime Minister Narendra Modi today attacked Bihar Chief Minister Nitish Kumar over his 'purane din' remark saying 'all levels of decency have been broken and poor language is being used by those who ruled Bihar for 25 years'.
"Nitishji says, we want old days back; Do you want old days of atrocities against dalits, kidnappings, rapes, murders?" he said at an election rally in Gopalganj.
"You must be listening to statements made by 'Maha swarthbandhan' leaders. I was wondering why they have come down to such low level of politics. Reason is not that I did something wrong, reason is that they are not being able to digest growing love and affection you have for us," he added.
The reason, Modi said, for their language is the 'love you (people) have shown towards me. While we are talking about development of Bihar, these people are interested only in reservation'.
On Nitish's visiting tantrik, he said, "They are so desperate now that they have resorted to tantriks. You can get a hundred Tantriks but it will not help."
The Prime Minister also rubbished Kumar's allegations that crowd at his rally are paid cash.
"They have levelled allegation against me that people who come to attend my rallies are paid, tell me this is your insult or not? Nitishji do whatever you want to do but don't hurt the sentiments of a Bihari," he said.
"Some of members of Nitishji's Cabinet were seen taking money on TV, isn't this a crime? But do they have any shame? Nitish ji said properties of people involved in corruption will be confiscated & schools for poor will be opened there," he added.
On RJD chief Lalu Prasad Yadav, he said, "Gopalganj, this is Lalu Prasad's home district but what did the people get here? He made it a mini Chambal. Lalu ji went to jail on corruption charges or not? Nitish ji please tell us, was his house confiscated, school was opened there or not?"
"You had faith in me during Lok Sabha elections. I will finish nepotism and corruption in Bihar," Modi said.
Today is the last day of campaigning for the fourth phase of Bihar Assembly elections.
Voting for the 55 seats in the fourth phase will be held on November 1. The districts are Sitamarhi, Sheohar, Muzaffarpur, Gopalganj, Siwan, East and West Champaran.
The remaining 57 seats will witness polling on November 5. Counting will take place on November 8.