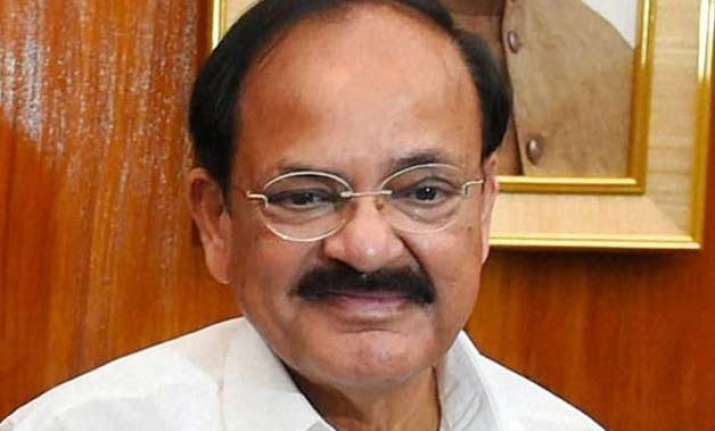 New Delhi: Government today said there is "no question of going back" on any of the ordinances including on land acquisition, but it will be open to suggestions when the bills are taken up after the Budget and accused the Congress of adopting "double standards" on the issue.
Parliamentary Affairs Minister M Venkaiah Naidu voiced confidence that Government will encounter no problem in pushing the measures and that all "friends, allies and supporting parties" will be on board.
"There is no question of going back on any of the ordinances. Whether it is the land ordinance, whether it is coal ordinance, whether it is the mines and mineral ordinance or whether it is e-rickshaw ordinance.
 All these ordinances will be pursued and then we want the Parliament to debate, discuss and decide," Naidu told reporters outside Parliament. He said that these will be taken up when the Budget is over and the timing will be decided by the Business Advisory Committee.
Naidu said that the government as it declared yesterday, is "open for meaningful suggestions" but stressed "as far as the main purpose of the bill is concerned, Government intends to go ahead with the bill (to replace land ordinance)."
"And I can also tell you one thing. We are in talkwith all our friends, allies and supporting parties and we are confident all of them will be on board. There will not be any problems whatsoever. Certain apprehensions have been created.
"Those apprehensions are being addressed to and we have already made it clear that well-meaning suggestions if any, they will be taken under consideration when we take up the bill in Parliament," the Parliamentary Affairs Minister said.
Accusing Congress of practising "double standards" on the issue, he said that a "misinformation campaign" is being carried out on the issue.
Union Minister Radhamohan Singh, speaking separately, said that the Congress agitation against land ordinance was "an agitation by defeated persons for their survival" and not to protect the interests of farmers.
Rejecting the contention that the land ordinance is against the interests of farmers, the Agriculture Minister told PTI that the pace of development of villages and the progress of farmers would have stopped had Narendra Modi government not brought out the ordinance.
He said that "farmers will desert these people soon". "The day farmers come to know of their reality, they will desert such people. Farmers will not participate in such agitations. They are not participating.
You can befool some people for some time but not all the people all the time.  "The leaders of Congress, who are agitating in the streets should discuss the issue in Parliament," he said.
Seeking to turn the table on Congress on its allegation that the government by bringing the ordinance has restored the 1894 Act brought by the Britishers, the minister said that Congress should remember the Act continued in independent India for around 60 years under its rule.