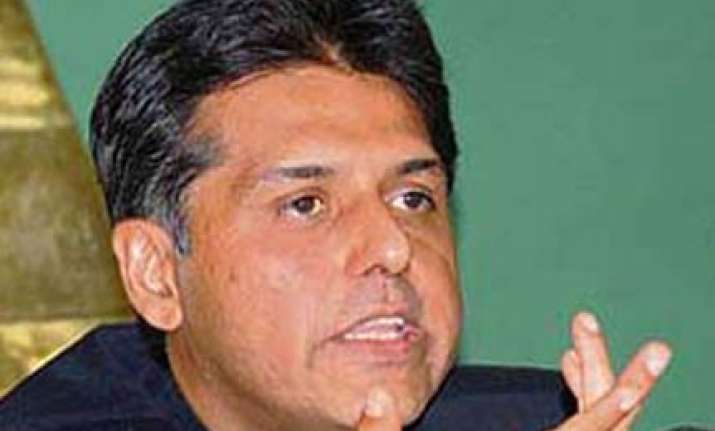 New Delhi: With controversy deepening over alleged corruption in Commonwealth Games projects, Congress today virtually backtracked from its remarks giving a clean chit to two Union Ministers and the Delhi Chief Minister and distancing itself from IOA chief Suresh Kalmadi.  
"We have neither given any clean chit nor any unclean chit to anybody. We are neither holding any brief for anybody nor indicting anybody," party spokesperson Manish Tewari said at the AICC briefing.  
Tewari's comments were significant as they were at variance with those of his colleague Shakeel Ahmed, who had told the party briefing yesterday that the integrity of two Union ministers M S Gill and S Jaipal Reddy, who are looking after Games-related works, is "beyond any doubt" while Delhi CM Shiela Dikshit "is also of very impeccable integrity".  
He had also said Congress MP Suresh Kalmadi is not there as a party representative but as the Chairman of the Indian Olympic Association. "Serious charges have been levelled against the Commonwealth Games Organising Committee....As the Chairman, he will reply to them," Ahmed had said. Tewari's tone was different.  
"We are not making any value judgement...if concerns been have raised, they have to be answered constitutionally and statutorily," he said. He said that Ahmed might have made those comments responding to questions in a certain context.  Tewari said if any decision has to be taken on the fate of Kalmadi, "it is for the Association to take."  
The Congress spokesperson said at this point, everybody should step up their efforts and get the job done to fulfil the country's "international commitment" about holding the Games.  
"If at all, a post-mortem on the efficacy of Games, its impact on India's image and its building capacity is to be done, it can be done after the Games," Tewari said when asked to comment on Congress leader Mani Shankar Aiyar's criticism of the Games. Asked about the Opposition's demands for an independent probe into the matters, Tewari shot back saying, "Is the CAG not independent."
He also said that there is "an inherent and in-built mechanism of investigation in the CAG's functioning" and stressed that the process (of investigation) which is going on should be allowed to continue. PTI