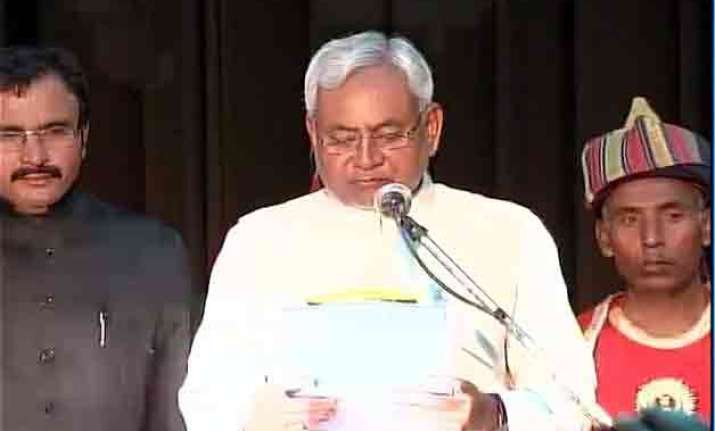 Patna: Nitish Kumar on Sunday returned as the chief minister of Bihar, nine months after he resigned following his party's massive defeat in the 2014 general elections.
He said he will speed up development work initiated by him earlier.
The 66-year-old Janata Dal-United leader was administered the oath of office as the 24th chief minister of Bihar by Governor Keshri Nath Tripathi.
Along with Nitish Kumar, 22 ministers also took oath at a simple ceremony at Raj Bhavan here.
Along with Mr Kumar, 22 ministers took oath -- 20 of them had resigned from his predecessor Jitan Ram Manjhi's cabinet in protest earlier this month and two others, who were dismissed by Mr Manjhi.
    
The Congress and the Rashtriya Janata Dal - the allies of JD(U) - are expected to join the government later.
JDU chief Sharad Yadav and senior Bihar BJP leader Sushil Modi, who has served as Mr Kumar's deputy in the past, attended the swearing in ceremony.
    
However, Samajwadi Party chief Mulayam Singh Yadav and Rashtriya Janata Dal chief Lalu Prasad skipped the ceremony in view of the family wedding.
Mr Kumar is to take the floor test in Assembly to prove his majority by March 16. He has claimed the support of over 120 lawmakers -- the halfway mark stands at 117.
    
Mr Kumar is taking over as the chief minister after a dramatic exit by his predecessor Mr Manjhi, who stepped down on Friday after a lengthy battle to hang on to the post. Mr Manjhi was also present for the swearing in ceremony.
    
Hours before his test of strength in the assembly, Mr Manjhi handed his resignation to Governor KN Tripathi when it became clear that even with the BJP's support, he would not be able to muster enough legislators to cross the halfway mark.
On Friday, Mr Kumar had publicly described his decision to quit office last year as "a mistake" and apologised to the people of Bihar, taking a leaf out of Aam Aadmi Party chief Arvind Kejriwal's book.   
Mr Kejriwal's public apology for quitting chief ministership after 49 days last year, had hugely endeared him to people who had given him a record mandate in the recently concluded assembly polls in Delhi.
Bihar is heading for elections later this year, in which, the JD(U), along with RJD and the Congress is likely to present a united front against the BJP. Mr Kumar's bid to come back as a chief minister was made in view of the coming elections.