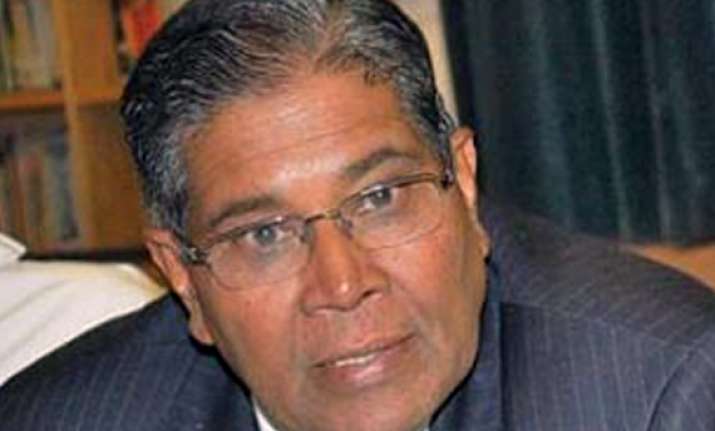 Patna, Jun 27: After Prime Minister Manmohan Singh and Home Minister Sushil Kumar Shinde, it was Union Minority Affairs Minister K Rahman Khan's turn yesterday to describe Bihar Chief Minister Nitish Kumar as secular.
"Nitish Kumar is secular and a nice man ... He has become pure after coming out of bad water pond of BJP," Khan told reporters here.
Asked how Kumar could be called secular when he had been an ally of BJP for long 17 years, the minister said "as a fish becomes clean after coming out of a pond of bad water, so too Kumar has become clean after coming out of his alliance with BJP."
Khan is scheduled to meet Kumar tomorrow to discuss implementation of welfare programmes run by his ministry for minorities.
Earlier, Prime Minister Manmohan Singh and Union Home minister Sushil Kumar Shinde had described Kumar as secular, triggering speculation about Congress warming up to him to reach a tie-up with JD(U). The speculation began when four members of CLP voted for JD(U) in the trust motion on June 19 after JD(U) severed ties with BJP.
Khan made a veiled attack on Gujarat Chief Minister Narendra Modi saying "today, people consider themselves as messiah of some region but the fact is that only Congress can take everybody together."
Congress, he claimed, was the 'biggest champion' of the minority Muslim community and referred to the implementation of Sachar Committee recommendations and creating a separate ministry of Minority Affairs. 
Asked why Muslims had deserted the Congress, who, he claimed, was their 'biggest benefactor', Khan said it was because the party's workers had failed to make people aware of the welfare schemes launched for them.
The union minister, who was accompanied by Bihar PCC president Ashok Chaudhary, appealed to the party workers to organise camps and through word of mouth make citizens aware of welfare schemes like MSDP and scholarship to minority community students among other initiatives.
He said the UPA government has already implemented 69 out of a total 72 recommendations of Sachar Committee. Three recommendations have been left out due to technical reasons.
About Multi-sectoral Development Programme (MSDP) for the welfare of minorities which is being implemented by his ministry, Khan said that in the 12th plan, district block has been taken as unit for implementation of the programme.
On programme implementation in Bihar, he said in the 11th plan, seven Bihar districts formed part of it and a sum of Rs 500 crore was given for this.
"In 12th plan the amount has been doubled (to Rs 1,000 crore) for implementation of the programme in 70 blocks where minority population is dominant," he said.
To keep an eye over the implementation of MSDP, his ministry has decided to set up monitoring committees at the district level involving NGOs. He himself had been visiting all the states to supervise implementation of minorities-related welfare programmes, he said.
Chaudhary handed over a memorandum by the Congress' minority leaders to him highlighting issues that could be taken up with the Chief Minister tomorrow.
The memorandum demanded modernisation of madarsas, establishing Kasturba Gandhi Balika schools in areas dominated by the minority population, recruitment of more Urdu teachers and setting a target of 15 per cent for minorities in all the welfare schemes, party sources said.