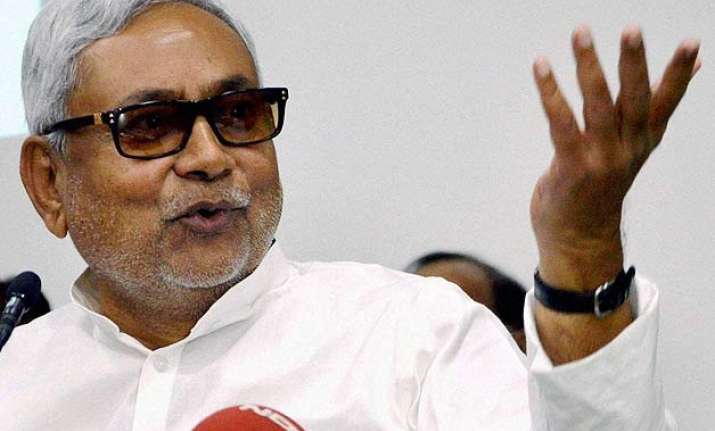 Patna: Voicing strong displeasure over Prime Minister Narendra Modi calling Bihar a BIMARU (laggard) state, Chief Minister Nitish Kumar today launched a counter attack and asked him to get his facts right.
He also hit back at Modi for warning of a return of'Jungle Raj' if JD(U)-RJD alliance were to come to power after the assembly elections, reminding him of former Prime Minister Atal Bihari Vajpayee's advice made in the aftermath of 2002 Gujarat riots to follow 'Raj Dharma'.
"He said Bihar is a BIMARU state. Bihar's growth rate, performance on social indices like education and health care present a picture which does not show it is a laggard state.  
He should have his facts right. Nobody will like to make a joke of himself by calling Bihar a BIMARU state," Kumar said hours after Modi promised to remove the tag by ushering in development once NDA was voted to power in the state.  On Modi's call to voters to elect an NDA government for rapid development of the state, Kumar said it went against the tenets of "cooperative federalism".
"He is threatening the people to vote for BJP. When states like Madhya Pradesh and Rajasthan were lifted out of BIMARU status some 10-12 years back, NDA was not in power at the centre," he said.
About Prime Minister's jibe at Kumar's alliance partner RJD chief Lalu Prasad's experiences in jail and that it would add to the dangers of voting their coalition to power in Bihar, the JD(U) leader shot back, asking,"What does he have to say about his own house?
"The person whom he has made the party chief (Amit Shah) spent 7 months in jail himself. We consider jails as reformatories where even yoga is taught, but he thinks otherwise," he said.
Referring to Modi coining new nomenclatures for RJD (Rojana Jungle Raj ka Dar) and JD(U) (Janata ka Daman aur Utpidan) to highlight the perceived dangers of coming to power of the newly-formed alliance, Kumar said,"Why doesn't he remember Vajpayee's advice of following Raj Dharma after the Gujarat riots.
Such a situation has never been witnessed here."In a tit-for-tat, he also coined a new name for BJP, while recalling Amit Shah's statement about Prime Minister's promise of bringing back black money stashed abroad that it was mere "jumla" (platitude).
"People will now call it 'Bhartiya Jumla Party'...I even saw an advertisement which described it as 'Bada Jhootha Party'," he said.
He also gave a left handed compliment to Modi for terming the collective 25 years of governance by RJD and JD(U) as "Jungle Raj".
"I thank him for including 10 years of my rule also in that. It means that he disowns BJP's contribution to state's development when it shared power with us. Their leaders, who have been claiming credit for the development, cannot do so now," he said.
Accusing the Prime Minister of "bias" against Bihar, the Chief Minister said," He promised special status for the state but backed out. Bihar has suffered a proportional loss of Rs 50,000 crore because of the recommendations of the 14th Finance Commission. It is still to receive Rs 9,000 crore compensation following the birfucation and creation of Jharkhand."
"Still, even now if they talk of pursuing cooperative federalism, there cannot be a bigger betrayal. What you say, you don't do. You signed the Naga peace accord but states impacted by it were not taken into confidence. Where is cooperative federalism?" Kumar said.  
On PM's allegation about neglect of Bodh Gaya after the terror blasts, Kumar said Bihar police promptly cracked the blasts at Modi's rally during campaign for last year's Lok Sabha poll.
"That helped the police crack the Bodh Gaya blasts case too. Today the number of foreign tourists visiting Gaya is more than those visiting Goa," he claimed.

The killing of a BJP worker in Patna does not mean there is no rule of law in Bihar, Kumar said.  "What Prime Minister said has hurt Bihar's pride, which is unacceptable. We should not bring the level of discourse below a certain standard. These words do not behove him," Kumar said.
He also took a swipe at Modi for marginalising seasoned leaders like L K Advani in BJP. "This party no longer belongs to Advaniji or (Murli Manohar) Joshiji. It does not belong to Yashwant Sinha or Jaswant Singh. It belongs to only Modi and the residual to Amit Shah," he said.  
Kumar also took a dig at Modi's frequent visits abroad, saying" Now the frequency of his visits to Bihar is matching those abroad. It's good the frequency has increased. He should contribute to Bihar's development."
On Modi's comments about lack of technical institutes in Bihar which forced students from the state to study outside, the Chief Minister said,"He compared engineering seats in Bihar to those in Punjab and Orissa. He should have spoken about Gujarat or how many jobs his government has given to engineering graduates."
Referring to Modi's description of Gaya as the 'Karma Bhoomi' of former Chief Minister Jitan Ram Manjhi, Kumar said,"It is the land of Buddha's enlightenment and also his salvation.
I don't know if he wanted to insult that land." Without naming Manjhi, his protege-turned foe, who is now a BJP ally, Kumar said,"PM should have said the assembly elections will be contested under his leadership."